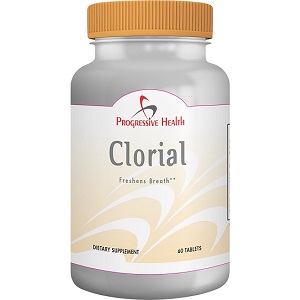 Progressive Health Clorial - Does It Work?-Review
What is Progressive Health Clorial?
In this review, we will take a closer look at the dietary supplement Progressive Health Clorial. The product claims to target halitosis-causing bacteria and helps to support the health of the oral cavity. If you wish to know more about Progressive Health Clorial and how it works, read our informative review below.
Ingredients & How It Works
CoQ10
Folic Acid
Vitamin C
Xylitol
Peppermint Oil
Lactoferrin
Thyme
Eucalyptus
Progressive Health Clorial states that the product cannot help address bad breath caused by medical condition, however, that it can help the major risk factors associated with it. Nonetheless, the product claims to provide CoQ10, Folic Acid, and vitamin C to help improve and maintain gum health. Peppermint oil and xylitol help to reduce dental decay and thyme and eucalyptus provide antibacterial and anti-fungal properties. Lastly, Lactoferrin helps to inhibit sulfur-producing bacteria and prevent bacterial growth.
However, from our research, it seems that the product is lacking main ingredients, which could affect the product's effectiveness. These ingredients include Chlorophyllin which help to neutralize and absorb the malodors and also provide therapeutic benefits. Furthermore, the product lacks a probiotic such as Lactobacillus Acidophilus, which helps to maintain gut health and lower bad bacteria that cause bad breath, body odor, and infections. Thus, with the absence of these ingredients the product may not be as effective as other brands.
Daily Serving
A serving size is 2 chewable tablets. Other than these specifications, we were unable to find any other information. The customer will not know exactly how many tablets to chew in a day and when the best time would be to chew it. Lack of crucial information like this may leave the product less effective in comparison with other products.
The Cost
The product can be purchased online from the manufacturer's website. For one month's supply, you will pay $49.95. If you purchase 3 bottles, you will receive one bottle for free and pay $149.85 (after discount). If you purchase 4 bottles, you will get 2 for free and pay a discounted price of $199.80. You will receive free delivery if you select the option to buy 4 get 2 free.
Guarantee
The manufacturer provides a 180-day money-back guarantee. This seems like a very promising return policy, however, the manufacturer will only accept unused bottles. Thus, first time customers will not be able to return used products for a full refund, if they find no positive results. The customer will be at risk due to the manufacturer's lack in confidence in their product.
Our Review Summary Of Progressive Health Clorial
After our analysis of Progressive Health Clorial we found that the manufacturer provides the customer with easy to chew tablets and cost effective bundle deals to choose from.
Unfortunately, we have also found many drawbacks with this product. First of all, the manufacturer fails to back their product with a solid guarantee. This will leave customers at risk when purchasing the product. Furthermore, the product does not contain ingredients based on clinical studies and may leave the product less effective in comparison with other brands. Finally, the manufacturer does not provide clear instructions on when and how the product should be taken. As a result, we are not able to recommend the safe and effective use of Progressive Health Clorial and we recommend searching for an alternative option.
Well researched reviews, from the experts at Research & You.