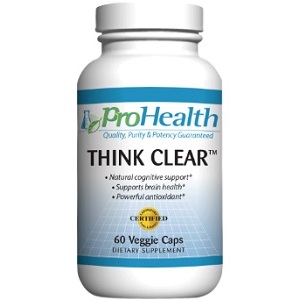 ProHealth Think Clear - Does It Work?-Review
What is ProHealth Think Clear?
In this review, we will look at ProHealth Think Clear. This supplement is formulated to support cognitive function and boost brain performance. The company that manufactures it claims that it provides effective and efficient results because it contains top-rated nutrients. This review will determine if the product can live up to these claims, ensuring that you make a wiser consumer purchase.
Ingredients & How It Works
Life's DHA Powder - 100mg
Ginkgo Biloba Leaf Extract - 60mg
Vinpocetine - 15mg
Huperzine A - 50mcg
DHA is an essential nutrient for the brain. The ingredient works to maintain brain fluidity and cognitive function. It is not common to many foods and, therefore, supplementation is essential. Ginkgo Biloba Leaf Extract promotes blood circulation and, thus, supports optimal brain function. Vinpocetine is another ingredient that improves blood flow to the brain for increased oxygen and improved energy. Huperzine A prevents damage to neurotransmitters that would, otherwise, lead to cognitive dysfunction. This is a powerful formula, however, it lacks a number of important ingredients found in competitor products on the market. DMAE and Choline, for example, would increase the product's ability to provide optimal results. These ingredients should be considered when looking for the best brain-boosting supplement. Another major concern is that there is no indication that the product was produced in a cGMP compliant facility. This does not bode well for product quality and suggests that high standards were not held in the manufacturing process.
Daily Serving
The manufacturer recommends taking one (1) capsule twice daily with meals. Each serving supplies sufficient concentrations of the active ingredients, therefore, the dosage is ideal. That said, the lack of several beneficial ingredients will render this dosage less effective than many competitor products on the market. The manufacturer states that individuals on prescription blood thinners or with a history of heart problems should not consume this supplement.
The Cost
This product is sold on the manufacturer's online store. A bottle of 60 capsules costs $20.49. This is reasonably priced, however, is likely due to the fact that the formula omits certain essential ingredients used in similar products. The manufacturer offers the product for $16.39 when subscribing to an auto-ship program. This offers a level of saving, however, these programmes are often difficult to cancel and should be avoided.
Guarantee
The manufacturer offers a 30-day 100% Satisfaction Guarantee for this product. Having a guarantee in place is positive to note, however, this particular guarantee is unclear. The manufacturer omits specific return policy guidelines and this brings the reliability of this guarantee into question. We were disappointed to find limited customer reviews for this product. This suggests that it may not be a popular supplement on the market and makes it difficult to determine its supposed effectiveness. There are more proven products on the market to consider.
Our Review Summary Of ProHealth Think Clear
ProHealth Think Clear contains ingredients that are known to boost brain performance and support cognitive function. The formula is correctly dosed and the price is reasonable. However, the low price is likely a result of an insufficient formula that lacks essential ingredients. The guarantee offered by the manufacturer is vague and unreliable. There are too few customer reviews to confidently vouch for the product's effectiveness. Therefore, we recommend seeking another brain booster with a more proven track record.
Well researched reviews, from the experts at Research & You.