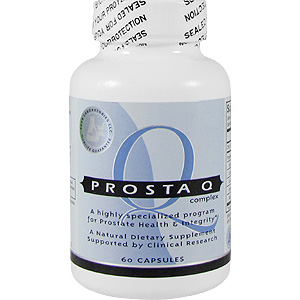 Prosta Q - Does It Work?-Review
What Is Prosta Q?
Prostate complications are, unfortunately, not uncommon in men as they age. As such, there exists a sea of prostate support supplements that promise to work miracles on your ailing prostate. Since finding the right is difficult, we step into the breach with another review one of those supplements, Prosta Q. This is an oral formulation that claims to provide a dual action: relieve urinary problems and the discomfort resulting from a malfunctioning prostate while at the same time promoting a healthy prostate. Read on for our take on this product and use it as guidance in deciding if this product is right for you.
Ingredients and How It Works
Zinc from Zinc Gluconate- 5 mg
Proprietary blend of 540 mg:
Quercetin
Cranberry
Saw Palmetto
Bromelain
Papain
Other Ingredients:
Maltodextrin
Magnesium Stearate
Gelatin
Saw Palmetto has shown great promise in treating various prostate problems. Saw Palmetto also has components that deactivate dihydrotestosterone hence minimizing chances of prostate enlargement. Quercetin provides a powerful antioxidant bioflavonoid useful in treating prostatitis. Cranberry detoxifies the urinary tract. The minerals provide remedial actions that complement the action of the main ingredients. Bromelain and papain help the body absorb Quercetin. In a nutshell, these ingredients work together to relieve you urinary discomfort while at the same time promoting prostate health.
Daily Serving
The recommended dosage of Prosta Q is one tablet taken two to three times a day with meals. Also, drink a lot of water. The manufacturer advises that if no improvement is seen within 8 - 12 weeks you should discontinue use of this product.
The Cost
At the time of our research, you could buy a single bottle of Prosta Q for $49.99, and $39.99 if you joined the auto-refill program. There were also multi-bottle packages available with slight discounts:
Buy four bottles at $47.99 each
Buy 11 containers for $46.09 each
Buy 16 for $44.29 each
Buy 21 for $42.57 each
Buy 26 for $40.94 each
Guarantee
Prosta Q comes with a 3-month warranty but the generous time frame is severely limited by the manufacturer accepting only unopened and undamaged bottles.
Our Review Summary of Prosta Q
Prosta Q is a blend of ingredients that have been shown to work in treating prostate related issues. The supplement looks like it can provide relief from urinary and pelvic area discomfort that result from an enlarged prostate.
However, we do have some concerns about drawbacks to this product. First, it is notably expensive and even the bulk discounts don't amount to a significant savings. The auto-refill program's price is better (still not cheap) but we are not fans of such programs and certainly not for first-time buyers. In addition, there is no possibility of trying the product and, if it doesn't work for you, getting your money back, as only unopened product is accepted for refund. This policy requires new users to pay that high price up front; and it also doesn't speak well of the company's confidence in its own product.
Well researched reviews, from the experts at Research & You.