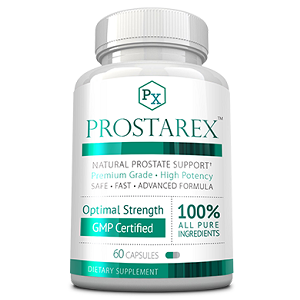 Prostarex - Does It Work?-Review
What Is Prostarex Natural Prostate Support?
Today we review Prostarex Natural Prostate Support. This supplement combines natural ingredients with the latest scientific research to improve and maintain prostate health. Produced in the United States in a cGMP and FDA registered facility, it contains a blend of herbs, minerals and vitamins which, according to the manufacturer, address and correct common deficiencies that may lead to prostate problems while improving overall health.
Ingredients & How It Works
Primary Ingredients
Vitamin B6
Vitamin D3
Vitamin E
Selenium
Beta-sitosterol Complex
Pygeum
Horny Goat Weed
L-Alanine
L-Glutamic Acid
L-Glycine
Green Tea Leaf
Lycopene
Secondary Ingredients
Gelatin
Magnesium Stearate
Calcium Carbonate
Every item on this exhaustive list was chosen for its positive impact on prostate health. It is a carefully researched blend of vitamins, minerals, herbs and amino acids. These ingredients support a healthy prostate by reducing PSA levels, maintaining prostate size and strengthening bladder and urinary control. They work to improve immunity, reduce inflammation and improve sexual pleasure and response. The benefits reach into the future by reducing the risk of future problems such as incontinence and even cancer.
Daily Serving
For best results, take one capsule twice daily preferably morning and afternoon. This dose provides better than the RDA for the vitamins and minerals, as well as the optimum levels of herbs and antioxidants to protect and enhance prostate health.
The Cost
Prostarex offers single and multiple bottle options, the latter with discounts that increases with the number of units purchased. At the time of this writing, you could purchase one bottle for $49.95; you could buy four bottles for $111.80 and six for $139.80. For those willing to make a long-term commitment to health the six-bottle package offers good value. Prostarex accepts major credit cards as well as PayPal. It is available from the manufacturer and on Amazon.
Guarantee
Prostate health is vitally important, but finding the best supplement is difficult. After considering the ingredients we took a look at the guarantee. A good guarantee indicates a good supplement. It shows the manufacturer's belief in its product as well as respect for the consumer. Prostarex's unconditional guarantee is very good. For any reason, a customer may return the product (opened or unopened) for up to 60 days after purchase. This is more than twice the time offered by many competitors, many of which do not accept back open bottles. This takes all the risk out of purchasing and testing the effectiveness of this supplement.
Our Review Summary Of Prostarex Natural Prostate Support
We think that Prostarex is one of the best prostate supplements on the market. It has a carefully researched list of natural ingredients, each chosen for its ability to improve and maintain prostate health now and into the future. The dosing instructions are reasonable and easy to follow. The company offers good price for multi-bottle orders and accepts many payment methods. It also has one of the best guarantees available giving the customer enough time to decide on the efficacy of the product. After considering the safety, quality and lack of risk we have no hesitation in recommending Prostarex.
Well researched reviews, from the experts at Research & You.