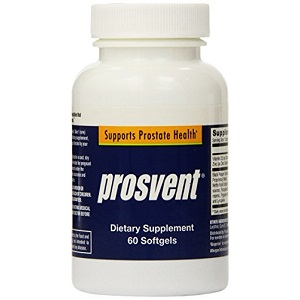 Prosvent - Does It Work-Review
What is Prosvent?
Every man has a prostate, and it plays a vital role in his sex life. As men age, the prostate grows and, since it surrounds part of the urethra, an enlarged prostate can squeeze that tube, making it hard to urinate. There are "medical model" treatments available, but natural remedies have established a place in the prostate relief market in part due to their reduced side effects. One of these natural solutions is Prosvent, the subject of this review. Prosvent claim it will help alleviate the symptoms associated with an enlarged prostate and reduce the disruptions to your sex life. Is Prosvent right for you? Read our full review below to decide.
Ingredients and How It Works
Beta Sitosterol
Nettle Extract
Black Pepper Extract
Pygeum Africanum
Pumpkin Seed Oil
Saw Palmetto Extract
Lycopene
Zinc
Vitamin E
Vitamin D
Prosvent says its all-natural components work together to relieve symptoms such as frequent urination, helping urine to flow more easily. They are also to reduce nocturnal urination to help you sleep better. In particular beta sitosterol is said to reduce the size of an enlarged prostate. And nettle has been shown to reduce the symptoms associated with an enlarged prostate. The vitamins and minerals are aimed at improving overall health and, with that, supporting prostate health.
Daily Serving
The recommended dosage is one tablet taken twice a day with meals so as to reduce the gastric side effects.
The Cost
On the manufacturer's website, Prosvent is only available through a 30-day trial in which you pay the $9.95 shipping fees for two 60-count bottles (a two-month supply). However, doing so subscribes you to an automatic refill program unless you cancel your participation in the program within 30 days. After the 30-day trial period, Prosvent will bill your credit card $39.95 per bottle and will continue to send, and bill you for, two bottles at $39.95 each every two months until you cancel the auto delivery.
Guarantee
Prosvent with its "Love it or return it" slogan gives you 30 days to determine if you are satisfied with the results. If not, call their customer services to cancel your order and then return the unused portions to Prosvent for a refund (minus the shipping fees).
Our Review Summary of Prosvent
Strictly looking at the ingredients, Prosvent is a promising product. The ingredients are backed by research that indicates success in alleviating prostate symptoms.
However, there are a number of stumbling blocks which prevent us from recommending this product. First, we're never fans of forcing new users into an auto-refill program. If a company is confident in its product, let the user order one bottle and give him sufficient time to test and return it for a refund if it doesn't work for him. Prosvent doesn't offer this kind of policy. In addition, Amazon customer feedback is very mixed with one out of three users giving it a negative rating (at the time of our review) based on well over 100 feedback posts.
Well researched reviews, from the experts at Research & You.