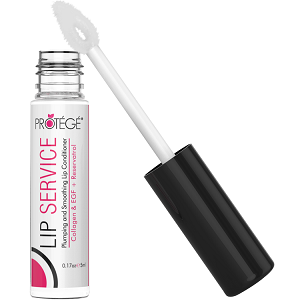 Protege Lip Service Review-Does It Work?
What is Protégé Lip Service?
Protégé Lip Service is a collagen-based lip plumper that is billed as having anti-aging effects. It is said to hydrate dry lips without the use of oils and condition and revitalize lips "over time", However, despite all our efforts to find out as much as we could about this product in order to write this review, we were largely unsuccessful.
Ingredients & How It Works
Hyaluronic acid
Collagen
EGF
Reservatrol
Hyaluronic acid is widely used on cosmetics to provide moisture to dehydrated skin and enhance its gloss. Collagen is the key structural protein in our skin that keeps the skin elastic and young-looking. We tend to produce less collagen as we age. EGF is a polypeptide (chain of amino acids) that stimulates skin growth and this, plus collagen and Reservatrol (red win's anti-aging antioxidant) together are said to naturally hydrate, add shine to and plump the appearance of lips.
Protégé Lip Service does not contain potentially harmful  parabens, phthalats or sulfates; and the product itself has not been tested on animals. That said, we were unable to find any other information about the contents of Protégé Lip Service, and so could not ascertain whether it would be suitable for use by vegans or vegetarians. It apparently has a nice, minty flavor, but we have no way of knowing what is used to deliver this attribute.
Instructions
We were unable to find any instructions on how to use Protégé Lip Service. It would seem that you simply apply it to your lips using the applicator wand provided. However, the Protégé website states that the product "softens and smooths the lips and the entire lip area". Does this mean it should therefore also be applied to the skin around the lips as well? We don't have the answer to that.
As there is nothing indicated to the contrary, you could probably reapply this product as often as you like either under or over lipstick, or alone. All the manufacturer states regarding its using is that continuous usage will result in fuller lips. How long this would take before you start seeing results is not indicated.
The Cost
At the time of this review, the price of a 5ml (0.17 fl oz) tube of Protégé Lip Service had been reduced from $49.99 to $29.99 on the Protégé website.
The product is shipped free of charge in the USA.
Guarantee
Protégé offers a 100% money back guarantee on this product. If you have any issues with it, or you are not completely satisfied, you must contact the manufacturer and they promise to resolve your issues, or fully refund you all your money.
Our Review Summary of Protégé Lip Service
There is no doubt that Protégé Lip Service contains some ingredients that have been proven to improve the youthful appearance of skin – and lips are also skin – by softening, rehydrating and smoothing. It is also good to know that it is made in the USA in a facility that meets the FDA Good Manufacturing practices standards, and is also 100% cruelty free.
However, there are still far too many gaps in our understanding of this product for us to be able to recommend it unconditionally. Exactly what ingredients are in it? How much of the active ingredients does it actually contain? How often should you apply it? How long will it take before you start seeing results? Does it contain any animal-derived ingredients, thus rendering unsuitable for vegetarians? The answers to all these questions is: we simply do not know.
Well researched reviews, from the experts at Research & You.