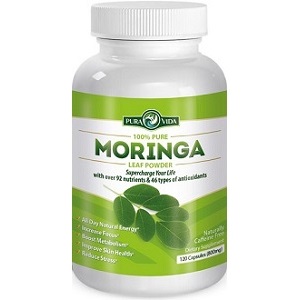 Pura Vida Organic Moringa - Does It Work?-Review
What is Pura Vida Organic Moringa?
This is a review for a product called Pura Vida Organic Moringa. It is designed to boost your energy and metabolism. The manufacturer claims that this product is also effective in reducing inflammation, promoting weight loss, lowering blood sugar, nourishing skin, detoxifying the body and improving brain function.
Ingredients & How It Works
Organic Moringa Leaf Extract is the only active ingredient in this supplement. It is packed with immune boosting phytonutrients, antioxidants and vitamins for deep immune system support.
The anti-inflammatories antioxidants, vitamins, and minerals in the Moringa leaves work by improving your energy, mental clarity, alertness and your general health. It may also lower blood sugar and cholesterol levels. It can also improve your liver, brain, and cardiovascular health.
Other ingredients: Kosher certified vegetable glycerin.
Daily Serving
Take one dropper under your tongue and hold for 20 seconds before swallowing. You can also take it by putting one dropper into your favorite beverage three times a day. It is not stated whether you should take it before, with or after your meals.
The Cost
Unfortunately, we were unable to access the manufacturer's website during our research. Therefore, we do not know if the product is sold on their website and their price. However, it is available through online retailers. The cost is $20.00 per bottle. The price is almost similar to other retailers.
Guarantee
We do not know whether or not the manufacturer offers a money-back guarantee since we could not access their website. If it is available, then that is good. If not, then you are in trouble. Buying a product that you are not sure if it is backed by a guarantee or not is a risk, and could cost you money if it turns out that it does not have a guarantee.                                                         
Our Review Summary Of Pura Vida Organic Moringa
Pura Vida Organic Moringa looks promising, and it might be effective in boosting your energy levels, metabolism, and immune health. The product is purely natural. It contains no pesticides, artificial color, preservatives or gluten. The price is reasonable and it is a bit cheaper than similar products on the market.
We like that the manufacturer informs you that the bottle can provide 60 servings. This helps so that you know how long it will last you even before you purchase it. However, there are a few issues that we are concerned about. We tried all techniques to access the manufacturer's website with no success. This is not good because the information on the manufacturer's website is always the most reliable. It is not good to rely entirely on third parties.
Furthermore, we do not know whether or not the manufacturer offers a money-back guarantee. Buying a product without a guarantee puts you at risk of loss. We recommend that you look for a product that every information you need about it is made available on the website of the manufacturer. 
Well researched reviews, from the experts at Research & You.