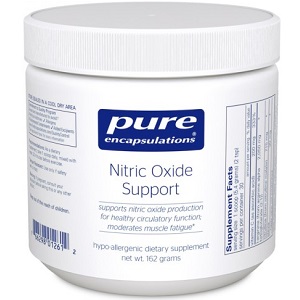 Pure Encapsulations Nitric Oxide Support - Does It Work?-Review
What is Pure Encapsulations Nitric Oxide Support?
This is a review of Nitric Oxide Support, a powdered supplement that is designed to be taken before exercising and provides the body with Nitric Oxide support to promote greater energy production and increased circulation to vital organs.
Ingredients & How It Works
Primary Ingredients
Vitamin C (as Ascorbic Acid) - 200 mg

L-arginine (from Arginine Alpha-Ketoglutarate) - 2,050 mg

Citrulline (from Citrulline Malate) - 715 mg
Secondary Ingredients
Xylitol

Stevia Leaf Extract

Luo Han Guo (Momordica Grosvenori)

Extract (fruit)

Natural Lemon and Lime Flavors
This appears to be a good ingredient list, with no artificial colorants or flavorings; it is gluten-free, both vegetarian and vegan, and Non-GMO. And there is Vitamin C in this supplement as well.
Nitric Oxide Support contains L-arginine, a type of amino acid the body needs to generate Nitric Oxide and is used to support healthy circulation and delivery of oxygen to muscles. However, we were surprised to see that another amino acid, L-Citrulline, was absent from the ingredient list along with Beetroot extract since both are widely used ingredients in this type of product.  Moreover, there is only 2,050 mg of L-arginine with each scoop of Nitric Oxide Support. The widespread recommended daily dosage of L-arginine is 2400 mg, and this product ends up falling short in providing the maximum support for the optimum healthcare outcome.
Daily Serving
Instructions on the product label state to simply mix one scoop (5.4 grams) of the powder with water approximately 20 minutes before exercising.  There is no information on the manufacturer's website about how much water to use, but customers have shared that they use varying amounts of water up to 16 ounces.  Others share that they put it in other liquids or put the powder in their mouth and wash it down with water.
If pregnant or nursing or have any other health condition where you are taking medication, you are advised to consult with your physician before using this product.
The Cost
On the manufacturer's website, a container of Nitric Oxide Support can be purchased for $37.30 through one of the qualified healthcare practitioners whose locations are available on the website. Or orders can be placed with the toll-free number.  Shipping is free for US orders over $300. Otherwise, third-party websites sell a container of Nitric Oxide Support for $51.99 including shipping. There does not appear to be multi-pack discounts available.  
Guarantee
The manufacturer does not offer a satisfaction guarantee for this product which is surprising given its cost and the number of similar products on the market that support a 100%  satisfaction guarantee.
Our Review Summary Of Pure Encapsulations Nitric Oxide Support
With the convenience of a powder that can be added to water absolutely anywhere, Nitric Oxide Support is a natural and hypoallergenic product designed to increase blood circulation and is conveniently vegan and without artificial flavors.
We were surprised, however, that we found no reviews whatsoever on the manufacturer's website and very few reviews available on third-party websites. We surmise this is due to the high cost of the product and the fact that most individuals will ultimately prefer to swallow a capsule than be bothered with a powdered supplement. Given that there are many supplements available that are both less expensive, with great user reviews, and provide the maximum number of milligrams recommended of amino acids, we imagine that customers will choose to try these products first before purchasing Nitric Oxide Support.
Well researched reviews, from the experts at Research & You.