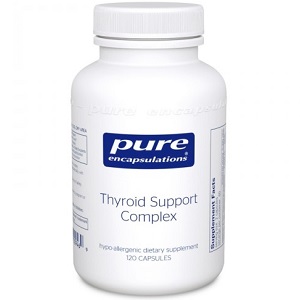 Pure Encapsulations Thyroid Support Complex - Does It Work?-Review
What is Pure Encapsulations Thyroid Support Complex?
This review is going to take a closer look at Pure Encapsulations Thyroid Support Complex to learn more about it and determine whether or not it is worthwhile. Thyroid Support Complex is a dietary supplement that is made up of several ingredients that are designed to make up an all-encompassing supplement that will support your thyroid's health in order to avoid developing a thyroid disease. The manufacturer claims that taking this supplement will help support your thyroid gland production and will promote thyroid hormone production. It is made with hypoallergenic and vegetarian ingredients.
Ingredients & How It Works
Vitamin A (as Vitamin A acetate) - 750 mg

Vitamin C (as ascorbic acid) - 150 mg

Vitamin D ( as cholecalciferol) - 500 mg

Iodine - 150 mcg

Zinc ( as zinc citrate) - 20 mg

Selenium (as selenomethionine) - 200 mg

L-Tyrosine (free-form) - 500 mg

Ashwagandha extract - 400 mg

Forskohlii extract - 100 mg

Guggul extract - 50 mg

Turmeric extract - 100 mg
Other Ingredients: Vegetarian capsule, ascorbyl palmitate.
Iodine is one of the most important nutrients that the thyroid needs in order to function properly. Selenium and L-tyrosine have been shown to be connected to healthy thyroid function and can assist in thyroid hormone production. This formula notably is lacking the inclusion of Vitamin B12. Hypothyroidism is often times connected with a Vitamin B12 deficiency and many thyroid health supplements contain it.
Daily Serving
The manufacturer recommends taking 2 capsules daily, with meals.
If you are pregnant, nursing or have a medical condition, you should talk to your doctor before taking this supplement.
The Cost
You can purchase Pure Encapsulations Thyroid Support Complex through healthcare practitioners or from third-party retailers. We found one 60 capsule bottle available for $27.10 on a third-party retailer's website and a 120 capsule bottle for $47.39. Pricing, bulk purchasing options, and discounts will vary according to the retailer you purchase from.
Guarantee
The manufacturer offers a 30-day money-back return policy but does not say if their policy applies to both opened and unopened products. All returns must be preauthorized and are subject to a 15% return fee.
Our Review Summary Of Pure Encapsulations Thyroid Support Complex
This product appears to be a decent supplement that can help you achieve and sustain optimal thyroid health. It contains a variety of ingredients that have individually been found to have properties that are beneficial for thyroid health and it is backed by a manufacturer's guarantee. However, their guarantee is weak and limited. They only offer thirty days to obtain a refund which is not necessarily enough time to see results and all returns are subject to a 15% restocking fee. The manufacturer has an extensive website with many products but does little to offer any detail about what this supplement has to offer and does not explain how the product works so that the consumer can make an informed decision before choosing this supplement. There are also very few consumer reviews but the ones we saw were mixed. Consumers reported that they experienced adverse side effects that they attributed to this product. Taking these factors into consideration,  you are better off purchasing a thyroid support supplement that has a strong manufacturer's guarantee for consumer protection, one that has plenty of information and one that has positive consumer reviews.
Well researched reviews, from the experts at Research & You.