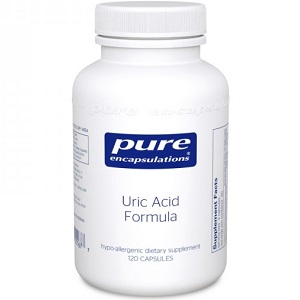 Pure Encapsulations Uric Acid Formula - Does It Work?-Review
What is Pure Encapsulations Uric Acid Formula?
Today we review a product called Uric Acid Formula by Pure Encapsulations. This is a hypoallergenic dietary supplement that claims to support healthy uric acid metabolism, promote healthy liver enzyme activity and is made with vegan ingredients. Gout is caused when too much uric acid builds up in your body and then crystallizes in your joints which can causes bouts of pain, swelling and inflammation. Gout is also classified as a form of inflammatory arthritis because it places limitations on joint movement which can make moving the joints very painful. If you regularly suffer from gout flare-ups and this product interest you, read the rest of our review below.
Ingredients & How It Works
Vitamin C
Potassium
Devil's Claw
Cherry
Quercetin
Bromelain
Grape
Vegetarian Capsule
This product is free from gluten and GMOs and is vegan and vegetarian-friendly. Although Uric Acid is the cause of gout, inherently Uric Acid is very good for your body in the right dosages and plays an integral part in your nucleic acids. Vitamin C helps to regulate and control healthy serum uric acid metabolism and excretion. Quercetin helps the liver to produce key enzymes that helps to produce uric acid. Potassium helps to support systemic alkalinization with in turn helps with uric acid metabolism. Cherries and grapes are also very high in antioxidants which mean that they break down free radicals in your body which boosts your overall health.
Daily Serving
It is recommended that you take 1 capsule twice a day between meals or as your doctor advises you. This product is not intended to be used by pregnant or lactating women. If you have a serious health condition it is also recommended that you speak to your doctor before taking this supplement.
The Cost
You can order this product directly from the manufacturer's website. Each bottle costs $36.60 and contains 120 capsules so it will last you about 2 months. You can get discounts if you purchase this product in bulk orders to the value of $300 or more. Shipping charges will range at about $10 for orders less than $300. Orders to the value of $300 or more will not be charged for shipping or handling expenses.
Guarantee
This product comes with a guarantee policy if it was purchased from an authorized seller. Returns can be made within 30 days of purchase and require preauthorization. All returns will also include a 15% return fee which would have to be paid by the customer.
Our Review Summary Of Uric Acid Formula
We love the fact that this product is gluten-free, hypoallergenic and that it is suitable for vegans and vegetarians. We also like that you can get a discount if you buy this product in bulk orders. However, we are not satisfied with the guarantee policy given with this product. The policy does not state in what condition you can return your product and on how many bottles this guarantee will be applicable. We also don't like that consumers would have to pay a 15% return fee on all purchases if they return the product. Furthermore, we feel that this product is more expensive than competing products that offer the same benefits and relief from gout.
Well researched reviews, from the experts at Research & You.