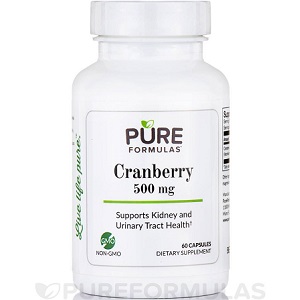 Pure Formulas Cranberry - Does It Work?-Review
What is Pure Formulas Cranberry?
For the person suffering from urinary tract infections, the key is that no matter where the infection is located - in the kidneys, bladder, or urethra, the symptoms are typically so agonizing that getting better quickly is the primary goal and then figuring out how to avoid future UTIs is the top secondary concern. This is a review of Pure Formulas Cranberry, a supplement that supports kidney and urinary tract health by using cranberry, a potent antioxidant, that flushes out bacteria and toxins from the body.
Ingredients & How It Works
Primary Ingredients
Cranberry Concentrate (Vaccinium Macrocarpon) - 500 mg
Secondary Ingredients
Rice Flour

Gelatin (capsule)

Magnesium Stearate
Cranberry has a lot of Vitamin C and is a powerful antioxidant that has been shown to inhibit the adhesion of E. coli bacteria, the main UTI-causing bacteria from sticking to the walls of the bladder.   However, this product is missing 4 other key ingredients that are commonly used to treat UTIs:  Lingonberry, D-Mannose, Uva Ursi, and Berberine.
Our main concern with this ingredient list is the low amount of cranberry - 500 mg, which is far less than what is required to adequately get rid of a UTI.
Daily Serving
The product label states to take 1 capsule daily or as directed by your healthcare professional. Individuals who are pregnant, nursing or have a medical condition should not use this product until consulting their healthcare professional.
The product contains no yeast, wheat, gluten, soy protein, corn, milk/dairy, artificial coloring, preservatives or flavoring.  The supplement is produced in a facility where products are produced containing soy, dairy, peanuts, fish, and crustacean shellfish.
The Cost
This product can only be purchased from the manufacturer. One 60-count bottle costs $9.62. There are no multi-packs available for purchase. Shipping is available to all US states except California and to 30 countries internationally.   
Guarantee
The manufacturer offers a 30-day return policy only on unopened items only.  This is unfortunate as this does not allow customers to try a product with a full satisfaction guarantee as once the product is opened, the product is not returnable.  
Our Review Summary Of Pure Formulas Cranberry
Pure Formulas Cranberry is a good product with easy to swallow capsules, but the amount of cranberry in one capsule is far less than what is required to fight off or prevent a UTI. Specifically, one capsule of this product contains only 500 mg of cranberry.  With reputable and leading manufacturers producing UTI supplements with 1500 mg of cranberry daily, the amount of cranberry in this product is simply not enough. Moreover, there are almost no customer reviews available for this product and almost no information about the ingredients and the composition of the supplement on the manufacturer's website. This is surprising. But we surmise that this product is not being used widely and that with much more generous satisfaction guarantees available for UTI supplements - up to a full year- that a 30-day satisfaction guarantee on unopened bottles won't be attractive in any way at all.  Consumers who will choose to purchase a product that is far more reliable and risk-free.
Well researched reviews, from the experts at Research & You.