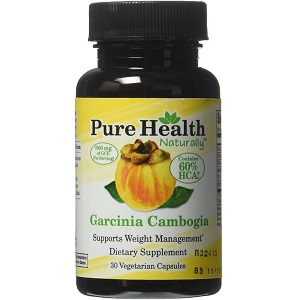 Pure Health Garcinia Cambogia - Does It Work?-Review
What Is Pure Health Garcinia Cambogia?
Pure Health Garcinia Cambogia is a dietary supplement meant to help with weight loss. According to the manufacturer it can help individuals lose weight without making them drastically change their lifestyle habits. This product does not promise large amounts of weight loss, but it does promote the assisting in reducing the amount of stubborn body fat. It is said to block the production of body fat and curb the appetite, allowing for quicker weight loss.
Ingredients & How It Works
Pure Health Garcinia Cambogia contains five active ingredients:
Garcinia Cambogia Extract with 60% Hydroxycitric Acid - Helps decrease body fat, increases lean muscle, and curbs appetite.
Calcium - Helps boost metabolism and burn calories.
Magnesium - Helps regulate blood sugar and insulin levels; can also help with bloating and water retention.
Chromium - Regulates blood sugar levels, curbs appetite and snack cravings, and decreases body fat
Black Pepper Extract - Helps increase effectiveness and absorption rate of the other ingredients.
Daily Serving
The daily serving size is six capsules a day. Two capsules should be taken 30 minutes before each meal. They should be taken with 10 oz of water. A physician may recommend a different dosage.
The daily serving size of garcinia cambogia is higher than the recommended amount. However, some experts say up to 6000 mg of garcinia cambogia can be taken daily. The percentage of HCA is 20% lower than the recommended amount. This could decrease the effectiveness of Pure Health Garcinia Cambogia.
The following warning is listed on iherb.com: This product contains a chemical known to the State of California to cause cancer or birth defects or other reproductive harm.
The Cost
Pure Health Garcinia Cambogia can be found on websites such as Walmart, Amazon, and iherb. Walmart was the only site that listed a price for this product at the time of writing: $9.98. However, currently this product is listed as out of stock on each website. iherb.com lists Pure Health Garcinia Cambogia as discontinued.
Guarantee
After thorough research, we could not find a guarantee or return policy. This could be a result of it being listed as out of stock on each website. As we could not find a website from the manufacturer itself any return/refund policy will be that of the retailer from which you purchase the product.
Our Review Summary Of Pure Health Garcinia Cambogia
Pure Health Garcinia Cambogia is a decent weight loss supplement. Customer reviews for this product vary significantly. Many customers report losing between 1 to 3 pounds while taking this product. However, other customers were not pleased with the lack of results and the expense of the product price. At first glance, the price looks cheap, but based on the recommended dosage one bottle will only last five days. Therefore, six bottles would have to purchased per month, making it quite pricey. In addition, having to swallow six pills a day is not a pleasant prospect, especially when competitor's products provide comparable amounts of active ingredient in far smaller daily doses. Also, the lack of a manufacturer-backed guarantee is a concern.
Well researched reviews, from the experts at Research & You.