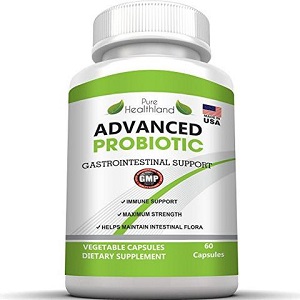 Pure Healthland Advanced Probiotic - Does It Work?-Review
What is Pure Healthland Advanced Probiotic?
The following is our review of Pure Healthland Advanced Probiotic. It claims to help improve digestive health, accelerate fat loss, improve energy levels, and relieve digestive pain. It is also made in a GMP certified facility. It's meant to reduce flu and colds, treat kidney stones, prevent cavities and gum disease, treat colitis and Crohn's. It also may even be able to battle cancer, lower cholesterol, improve acne, and help you lose weight. Continue reading for our full review.
Ingredients & How It Works
Probiotic Bacteria - De111, Lactobacillus rhamnosus, lactobacillus casei, Bifidobacterium longum, lactobacillus plantarum, bifidobacterium breve - 5.75 Billion Organisms
All these organisms are meant to help to decrease flu, colds, and overuse of antibiotics. They can also treat kidney stones, colic, prevent cavities and gum disease, treat colitis and Crohn's disease, combat antibiotics-resistant bacteria, treat liver disease, battle cancer, manage autism, lower cholesterol, fight bacteria that causes ulcers, improve acne, and lose weight. This product was packaged in a facility which may also process milk, soy, wheat, eggs, peanuts, tree nuts, fish, and crustacean shellfish.
Daily Serving
It is recommended to take 1 capsule 1-3 times a day. It is preferred to take it with a meal or as recommended by a healthcare professional. You should not exceed the recommended dose. You should consult with a physician before using if you are pregnant, nursing, under the age of 18, or if you have a known medical condition.
The Cost
Pure Healthland Advanced Probiotic can be bought for $22.99 directly from the manufacturers' website. It comes in a bottle of 60 capsules. This product can last you anywhere from 20 days to 2 months, depending on how many capsules you take each day.
Guarantee
The manufacturers offer a 60-day money-back guarantee. They promise you a 100% no-risk purchase to instill you with confidence. If you are not satisfied with your purchase, you have 60 days to contact customer care and request a refund. You will be responsible for shipping costs. Once your refund is received, your entire order will be refunded as long as all bottles purchased have been returned. It doesn't specify if the bottles need to be unused and unopened.
Our Review Summary Of Pure Healthland Advanced Probiotic
There are a couple of positive things about Pure Healthland Advanced Probiotic. There were a couple of customer reviews saying that this product helped relieve very uncomfortable indigestion pain. One customer also said it helped them stay regular. This product is also pretty affordable if you can manage to make it last you 2 months then it's even more affordable. There are a couple of negatives as well. This product does have a manufacturer guarantee, but it doesn't state if it needs to be returned unused and unopened, which leaves us unsure of the manufacturer's confidence in their product's effectiveness. We were also only able to find a couple reviews on the manufacturer's website and they were obviously both positive. We were unable to find any other reviews anywhere else on other sites. We feel you will be able to find a more effective product elsewhere.
Well researched reviews, from the experts at Research & You.