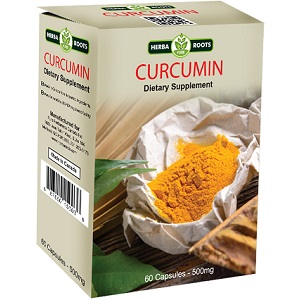 Pure Herba Roots Curcumin - Does It Work?-Review
What Is Pure Herba Roots Curcumin?
The following is a review of a product from Pure Herba Roots called Curcumin. Curcumin is the active ingredient in the spice called turmeric. Although turmeric is a delicious addition to any meal it has also been associated with countless health benefits. Studies have shown that curcumin can alleviate symptoms of arthritis, diabetes and heart disease. Additionally, Curcumin provides the body with support to fight off infections, assist in digestion and promote cognitive health. The health benefits of curcumin are linked to the anti-inflammatory, antiseptic and anti-microbial properties of turmeric.
Ingredients & How It Works
   Turmeric Root Extract
   Vegetarian Capsule (Cellulose and Chlorophyll)
   Silicon Dioxide
   Magnesium Stearate
The main ingredient included in this product is good for providing you with a boost to your immune system as well as improving your general health. However, there were a few things which we found quite concerning. This product claims to be a herbal dietary supplement but they also included additional ingredients which are not strictly natural.
Daily Serving
The manufacturers of this product recommend that you take one 500 mg capsule twice daily. They also recommend that you take this supplement with food and water. Like most other supplements it is a good idea to check with your doctor before you begin to take this supplement. Additionally, women who are pregnant or breastfeeding should not use this supplement.
The Cost
You can buy this supplement online for $34,99 directly from the manufacturer. They are currently offering a summer promotion which means the standard price of $49.95 per bottle has been reduced by 30%. Although this price is rather reasonable we believe that there are similar products available which offer much better value for your money.
Guarantee
After a considerable search, we were unable to find any information regarding guarantees which are available for this product. This is quite concerning as it indicates a lack of confidence in their product. Additionally, it does not seem that there are any return or refund policies in place. This means that if you are at all unhappy with this product you will have no choice but to keep it.
Our Review Summary of Curcumin
After completing our review of this product we came to the conclusion that it is an acceptable dietary supplement. If you consume the recommended dosage as indicated by the manufacturer you will meet your daily requirements for Curcumin. We were also impressed by the fact that the capsules are made of plant materials which means that this product is safe for vegetarians as well as vegans to use. Sadly, our research also made a few concerns regarding this product clear. There is a rather high percentage of artificial ingredients included in this product which we are worried about. Additionally, there was only a single customer review available on the manufacturer's website which means that you are not getting a clear indication of how other people feel about Curcumin. A final issue we had with this product was that it is relatively expensive in comparison with other products.
Well researched reviews, from the experts at Research & You.