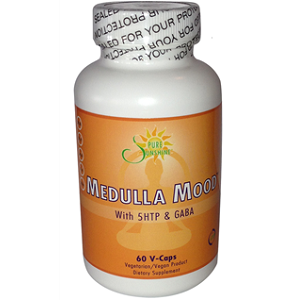 Pure Sunshine Supplements' Medulla Mood - Does It Work?-Review
What is Pure Sunshine Supplements' Medulla Mood?
Today we review Pure Sunshine Supplements' Medulla Mood. This is a supplement that the manufacturer claims can help to promote better mood and emotional well-being. There is a theory that people who suffer from anxiety and irritability might also be at risk of having a compromised immune system and therefore a domino effect on your general health. Medulla Mood uses all natural vitamins and minerals that combine together to reduce stress and anxiety and promote a positive mood. Keep reading to see if Medulla Mood can help you de-stress and feel emotionally better.
Ingredients & How It Works
       Vitamin C
       Vitamin B6
       Magnesium
       5-HTP
       GABA
       Passion Flower Concentrate
       Linden Powder
       Skullcap Powder
       Rhodiola Rosea Extract
5-HTP and Gaba positively influence the serotonin in the brain and help to lift your mood and also helps to relieve anxiety and stress by promoting relaxation. Vitamin C and B6 protect your body against free radicals and also help to manufacture amino acids and neurotransmitters. Magnesium calms and hydrates muscles. Passion Flower and Linden Flower Extract are natural sedatives and can improve sleep. Rhodiola Rosea can help build resistance to stress and boost energy levels. Medulla Mood does not contain gluten, lactose, or any dairy products and is suitable for vegans.
Daily Serving
Take 2 capsules of Medulla Mood daily. There are no details about what  time of day to take the capsules nor whether to take before or after food. The company website states that it has not heard of any side effects by consumers who have used it. It does suggest that if you have a medical condition or if you are pregnant or lactating, consult your doctor before taking Medulla Mood.
The Cost
The company website sells a 60 capsule supply for $29.95 (at 2 capsules per day this is enough for one month). While shipping is free on the company website there are no special discounts or coupons offered when buying in bulk. You can also find Medulla Mood on other online retailers sites.
Guarantee
The company says that it has a 60 day full refund return policy excluding shipping and handling. If you are not satisfied with this product then you can return it for a full refund. Refunds are limited to one opened supplement bottle per order. If you return an unopened bottle you will still be charged a $5.00 restocking fee.
Our Review Summary Of Pure Sunshine Supplements' Medulla Mood
There were several things we liked about Medulla Mood. We liked the all natural ingredients, and the quite detailed description of what each ingredient does that appears on the company website. As supplement products go, we were also pleased to see a generous 60 day return policy that includes open bottles as well as closed ones. It's not clear how much money is taken off for shipping charges however since the bottle is shipped for free to the consumer, the consumer isn't made aware of the potential charges when returning to the company. We thought the price was better than other products on the market but would have liked to see a discounted price structure when buying in greater volume on the company website. While shipping is free on the company website there are no special discounts or coupons offered when buying in bulk. On the negative side, we were disappointed to see a large number of negative reviews on Amazon by people saying that Medulla Mood was not at all helpful in improving their anxiety or stress levels. Secondly, we feel there was no mention about how long a treatment plan takes in order to start feeling like the supplement is helping. Lastly, although the pricing isn't the most expensive on the market, you can probably find less pricey products out there if you look. For these reasons we are not able to recommend Medulla Mood today.
Well researched reviews, from the experts at Research & You.