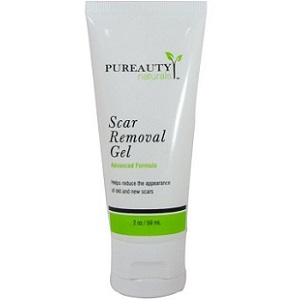 Pureauty Naturals Scar Removal Gel - Does It Work?-Review
What is Pureauty Naturals Scar Removal Gel?
This is a review of Scar Removal Gel Advanced Formula by the manufacturer Pureauty Naturals. The manufacturer claims that this gel will minimize the appearance of scars, such as acne scars, surgery scars, as well as scars from burns and cuts.
Ingredients & How It Works
The ingredients include:
Organic Aloe Barbadensis Leaf Juice
Allium Cepa (Onion) Bulb Extract
Polysorbate 20
Glycerin
Sodium Hyaluronate
Allantoin
Calendula Officinalis Flower Extract
Symphytum Officinale Rhizome/Root Extract
Tocopheryl Acetate
Xanthan Gum
Carbomer
Phenoxyethanol Ethylhexylglycerin
The first ingredient, Aloe Barbadensis leaf, is the common aloe vera known to moisturize the skin and soothe burn wounds. In addition, aloe helps to control inflammation that could lead to a reduction in collagen, while the skin restructures to fill the gaps which scars cover. Aloe also helps to ease itching, which may negatively affect the healing process. It also helps to freshen the skin color at the scar site. Allium Cepa (Onion) Bulb Extract is known to reduce stretch marks and the appearance of scars. Glycerin softens wrinkles, and badly dried-out skin and scars. Sodium hyaluronate gel helps to lock essential moisture in, assisting the skin to expedite repair.
Daily Serving
The manufacturer of this scar gel recommends that it be evenly and gently applied to the scar. This should be done daily for eight weeks for new scars and 3 to 6 months for older scars. However, the manufacturer suggests that treatment should be started as soon as possible for optimal success of the product. Furthermore, the scar must not be scratched: the scab must fall off naturally. In addition, this scar gel is not to be applied on broken skin.
The Cost
A 2-ounce or 59 ml tube of Scar Removal Gel Advanced Formula, by Pureauty Naturals, costs $39.99 to buy online on the manufacturer's own website. The company does not offer any discounts on their products or on bulk orders. Our research could not elicit whether or not a shipping fee is charged, no such information being provided.
Guarantee
The company does offer a 100% satisfaction guarantee on their products. A full refund will be given on any items returned, no matter the complaint.
Our Review Summary Of Scar Removal Gel Advanced Formula
The components of Scar Removal Gel Advanced Formula are all natural: most are time-honored ingredients which both moisturize and heal the skin. In addition, the company's money back guarantee is attractive. However, there are some concerns. Firstly, the formula: certain key ingredients are lacking which have been clinically proven effective in treating scar tissue. These include emu oil, palmarosa, lavender, safflower, sunflower, vitamin C, as well as medical grade silicone. Secondly, there are mixed reviews about the effectiveness of this scar gel. This lack of a clear assurance of efficacy, leaves the product open to doubt.
Well researched reviews, from the experts at Research & You.