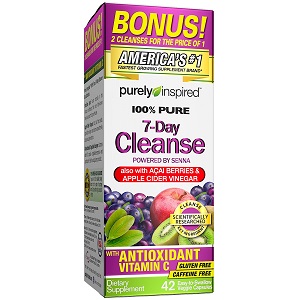 Purely Inspired 7-Day Cleanse - Does It Work?-Review
What is Purely Inspired 7-Day Cleanse?
The following review is for Purely Inspired 7-Day Cleanse. This product is designed by the manufacturer to offer the user with a revitalizing cleanse with an effective and gentle flush of the system. It allows the user to feel renewed and rejuvenated due to the key cleansing ingredient, namely Senna. The product also contains antioxidants which help with the build-up of free radicals in the body. Read our review below to see what Purely Inspired 7-Day Cleanse can do for you as an effective detox and cleanse.
Ingredients & How It Works
This product contains 3 blends of ingredients which are all combined into 1 capsule. These ingredients include:
Cleansing Blend:
Acacia gum stem and branch
Senna leaf extract
Aloe vera leaf
SuperFruit Blend:
Acai fruit extract
Amla fruit extract
Kiwi fruit
Glutathione
Digestive Blend:
Papain
LactoSpore
Fennel seed
Ginger root
Senna is one of the main ingredients found in the product and it is seen as a powerful laxative in the treatment of constipation. The product also contains fennel, ginger, and aloe vera, however, these may be found in too low concentrations as the daily value is not even estimated, rendering the product ineffective. The product also contains antioxidants and digestive enzymes, as well as probiotics. It is free from caffeine and gluten.
Daily Serving
The manufacturer recommends that the user take 3 capsules with a meal, before bed time. This should be taken with 8 oz of water. A user must not exceed 3 capsules within a day. Due to the tolerance of individuals being so different, the manufacturer recommends that users take 1 capsule on the first and second day. On day 3 and 4, take 2 capsules and lastly, day 5 to 7 take 3 capsules. This product must not be used for more than 7 consecutive days.
The Cost
The product can be purchased online directly from the manufacturer's website. A bottle will cost $16.99. The manufacturer does offer a discount of 25%. The product can also be purchased from other online retailers. Follow the instructions on the manufacturer's website to make a purchase. Prices from these retailers range between $9.88 to $21.88.Free shipping is included.
Guarantee
The manufacturer offers customers with a 30-day money-back guarantee. The return policy is only for products returned in their original packaging that are returned unused and unopened. This is a weak policy as it does not allow a customer to test the product and see if it delivers the results it should.
Our Review Summary Of Purely Inspired 7-Day Cleanse
At first glance, Purely Inspired 7-Day Cleanse seems to be a promising product. It is filled with antioxidants, digestive enzymes, and probiotics which are claimed to offer a healthy detox. The manufacturer also provides customers with a 25% discount, when purchasing from their website.
Nonetheless, there are also a few things which we do not like about this product. First of all, senna is seen as a powerful laxative. Certain users will not be able to tolerate the effects thereof and will be left with diarrhea. A user cannot just purchase the product and start using it. They must first test the tolerance. This can be seen as an inconvenience and it can be very time consuming. Furthermore, the manufacturer offers clients with a 30-day money-back guarantee, however, they do not allow clients to first use the product. This leaves the risk with the client. Due to these unfortunate reasons, we recommend that customers try finding a product with a strong guarantee and one which they can start using immediately. We do not recommend Purely Inspired 7-Day Cleanse.
Well researched reviews, from the experts at Research & You.