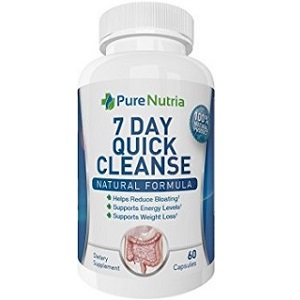 PureNutria Colon Cleanse Detox Supplement - Does It Work?-Review
What is PureNutria Colon Cleanse Detox Supplement?
The following is a review for PureNutria Colon Cleanse Detox Supplement. The manufacturers of this supplement claim this product will help to flush out your digestive system and in so doing will remove toxins, ease bloating, and cause you to lose weight. Other claims also include its ability to boost your immune system,  increase your body's ability to absorb vital nutrients and help you feel great. There are a lot of high expectations here. Keep reading to see if PureNutria Colon Cleanse can help you achieve any of the things the company claims it can do.
Ingredients & How It Works
Cape Aloe
Senna Leaves
Cascara Sagrada
Fennel Seed
African Bird Pepper
This ingredients are all natural and contain no powerful chemicals or drugs.  
Daily Serving
Take one capsule daily for a gentle cleanse with 8 ounces of water, juice or beverage. Alternatively, for a more aggressive treatment, you can try taking two capsules daily, one at breakfast and the other at dinnertime for 7 days. If repeating a treatment cycle, you should wait a minimum of 7-10 days between cleanses of 2 pills per day.
Warnings for this supplement include the following; only adults aged 18 plus, who are in good overall health, and not pregnant or nursing should use this supplement. If you experience abdominal pain or diarrhea, you should avoid using this product. It should not be used for more than one week. If you have not had a bowel movement within the week of taking this supplement, you should immediately consult with a medical professional.
The Cost
The price for one 60 count bottle is $15.00. There is a 5% discount if you have an automatic renewal every two months, and for first orders, the company offers a one time 10% off coupon. 
Guarantee
The company advertises it as having a lifetime guarantee, but we were unable to find specific details about what is included in that guarantee. It simply states that if you are unhappy with the product, you just need to contact the manufacturer and they will help you. It is unclear if there is a return policy, how long it lasts, and if one can return open bottles of pills. A lack of specifics means that this guarantee is worthless to a consumer.
Our Review Summary Of PureNutria 7 Day Quick Cleanse
There are a few things we liked about PureNutria 7 Day Quick Cleanse.  The ingredients are all natural. The dose of one pill a day is small and not burdensome. PureNutria's price is quite reasonable and we also like the discount if auto-renewing. On the negative side, we were disappointed at the lack of information regarding side effects. We felt that there needed to be more information on the label and website. We also are concerned that the multiple claims the manufacturer makes about the product are unrealistic -  weight loss, general well being, immune system booster - are most likely exaggerated and unrealistic. Lastly, the guarantee is very vague and not explanatory. A lack of specifics means that this guarantee is worthless to a consumer. We conclude therefore that we cannot recommend PureNutria 7 Day Quick Cleanse at this time.
Well researched reviews, from the experts at Research & You.