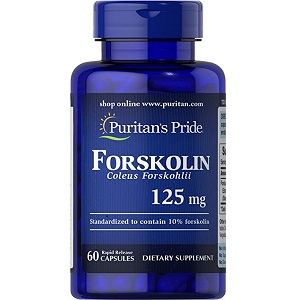 Puritan's Pride Forskolin Coleus Forskohlii - Does It Work?-Review
What is Puritan's Pride Forskolin Coleus Forskohlii?
Forskolin is a plant that has been used for centuries in Ayurvedic system of healing. Originating from India, this system uses all-natural ingredients to deliver numerous benefits. Puritan's Pride Forskolin Coleus Forskohlii takes this approach in formulating its nutritional supplement that... does what exactly? The product website itself doesn't actually make any claims whatsoever about the product's benefits so there's really no way to judge it on "effectiveness". Nonetheless, forskolin supplements are generally marketed to help with weight loss so we'll assume that such is the purpose of this product. We take a closer look at Puritan's Pride Forskolin Coleus Forskohlii. With this review we hope to shed some light whether this supplement is a good and safe choice for those looking to lose some weight.
Ingredients and How It Works
Forskolin Extract (standardized to 10% forskolin) - 125 mg
As we checked their official website we concluded that they did not provide complete detail when it comes to the ingredient. Why 125 mg with 10% forskolin? There are forskolin supplements available right now that contain higher levels of standardized forskolin. Is this a way to reduce side effects? Are there any side effects we should note? Unfortunately, Puritan's Pride did not offer any additional information as to why they chose this formulation for its supplement.
Daily Serving
As with many other usually standard product attributes, again the Puritan's Pride website let us down; we were unable to find a recommended dosage. In this regard, we would suggest you consult with a health professional first.
The Cost
Puritan's Pride Forskolin Coleus Forskohlii is currently available in the official product website for $24.99 per 60-count bottle. It also available in specially discounted multiple bottle packages. You can purchase two bottles for $29.98 ($14.99 per bottle) or four bottles for $34.96 ($8.74 per bottle). Because of this high discounts we see no point in purchasing a single bottle as two bottles can be bought for almost the same price.
Guarantee
Puritan's Pride Forskolin Coleus Forskohlii comes with a one-year money back guarantee. This is a great inclusion to any product. The one-year guarantee is more than enough to determine whether the product is effective or not. You can check their official website for more information about the customer guarantee. As for the supplement's standing in the online community, it currently garners a mixed positive feedback. The reviews are quite divisive, either extremely positive or extremely negative. It appears that Puritan's Pride Forskolin Coleus Forskohlii works for some but does not produce results for others.
Our Review Summary of Puritan's Pride Forskolin Coleus Forskohlii
All in all, Puritan's Pride Forskolin Coleus Forskohlii is definitely one of the more affordable weight loss supplements you can find. However, we do believe that the reason for its affordable price tag is its low dosage levels. Fact of the matter is that you can find other weight loss supplements that offer higher concentrations of forskolin extract (not to mention more information on what the product is intended to do and how much of it to take). We suggest you open up your options and search for other supplements online. To check out one alternative, see Garcinia Cambogia Premium reviews.
Well researched reviews, from the experts at Research & You.