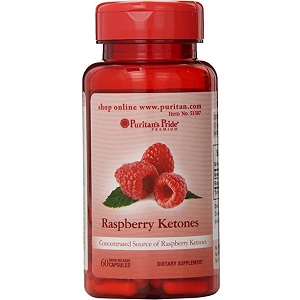 Puritan's Pride Raspberry Ketones - Does It Work?-Review
What is Puritan's Pride Raspberry Ketones?
Raspberry Ketone supplements are one of the newest weight loss products to hit the weight loss market. They became popular after they were endorsed by a popular American TV show doctor who claimed that taking a Raspberry Ketone supplement can help you lose weight without changing your lifestyle. Some supplements are worthwhile and contain effective ingredients while others use toxic chemicals that are unsafe for human consumption. This review is going to take a closer look at Puritan's Pride Raspberry Ketones. This product is a Raspberry Ketone supplement that is designed to help you lose weight and is a concentrated source of Raspberry Ketones.  
Ingredients & How It Works
The only active key ingredient in this supplement is Raspberry Ketone. One capsule contains 100 mg and is enclosed in a quick release capsule. Ketones are the element in red raspberries that give them their red color. Despite its name and the manufacturer's claim, this supplement is not derived from raspberries, rather, it is synthetically made because one kg of natural compounds would cost around $20,000 and is equivalent to 90 pounds of raspberries. Raspberry Ketones are believed to aid in weight loss by increasing levels of adiponectin, which is a hormone that helps regulate your metabolism and helps your body burn fat faster. It is also believed to cause fat within cells to be broken down effectively which will help your body burn fat faster.
Daily Serving
Puritan's Pride does not disclose their dosage recommendation online. We recommend contacting their customer service to inquire about their dosage instructions because it is imperative to know how to take a supplement in order to safely take it.
The Cost
You can purchase this supplement directly from the manufacturer and from third-party retailers. You can purchase a package of two bottles on the manufacturer's website for $6.99 or a package of five bottles for $13.98.
Guarantee
Puritan's Pride offers a one-year return policy on all used and unused bottles.
Our Review Summary Of Puritan's Pride Raspberry Ketones
This product appears to be a promising weight loss tool that may be able to help you lose weight. It comes in easy to take rapid release capsules and every capsule contains a 100 mg serving. However, this serving is significantly less than most other Raspberry Ketone supplements that we have seen range from 500-1000 mg per serving. It leads us to question whether or not this supplement is strong enough to be effective. Furthermore, the Puritan's Pride does little to offer any information about the risks and benefits of their product. Their website contains nearly no information about what this supplement is designed to do. They also do not disclose their product's dosage instructions which is crucial information to know when choosing a supplement. Taking these factors into consideration, you are better off purchasing a Raspberry Ketones supplement with an effective serving and one that has enough information to be able to make an informed decision on.
Well researched reviews, from the experts at Research & You.