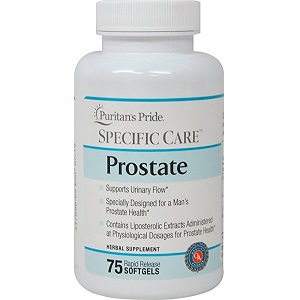 Puritan's Pride Specific Care Prostate - Does It Work?-Review
What is Puritan's Pride Specific Care Prostate?
One of the most prevalent health concerns of aging men is an enlarged prostate. Simply put, most men will experience this condition no matter what they do as they grow older. Which is why it's important to give the body the nutrients to help it combat this condition. Enter Puritan's Pride Specific Care Prostate. This supplement is aimed at supporting prostate health according to the manufacturer through what it calls its Specific Care formula. Does it deliver results? Read on to find out in our review below of Puritan's Pride Specific Care Prostate.
Ingredients and How It Works
Saw Palmetto Extract - 80mg (standardized at 85-95% fatty acids and sterols)
Pumpkin Seed Oil - 80mg
Lycopene - 3mg
Bearberry Extract - 5mg (standardized to 10% arbutin)
The ingredients used in Puritan's Pride Specific Care Prostate are pretty much what you would expect in a prostate support supplement. However, it also incorporates Bearberry Extract which is not commonly found in such supplements. Bearberry extract is actually a new addition that newer prostate supplements contain.
Why is it included this time around? Well, it is actually a longstanding member of natural ingredients that offers benefits to the bladder and the urinary system as a whole. Incorporating it into well-known prostate health improving ingredients such as saw palmetto should enhance the formula's overall effectiveness.
Daily Serving
Strangely, the manufacturer's online product page doesn't provide a recommended dosage. We found it elsewhere online for this product although we can't be sure how reliable it is. The recommended adult dosage for this supplement is 4 times a day. It is recommended you take each softgel capsule alongside a meal. Drinking plenty of water should also help speed up the formula's absorption into the body. Please be advised that Puritan's Pride Specific Care Prostate is not designed to be taken by women.
If any side effects occur after taking this supplement we suggest you stop use immediately and contact your doctor. Results should be experienced around the one-month mark of regular use.
The Cost
You can purchase Specific Care Prostate supplement from Puritan's Pride product website. At the time of writing you could only buy two 75-count bottles (there was no option to buy one bottle only) for $16.99.
Guarantee
Puritan's Pride Specific Care Prostate comes with a one-year money back guarantee. You can return Puritan's Pride Specific Care Prostate for any reason whatsoever. You simply need to contact them through their official customer support page in order to fill up the return form.
Our Review Summary of Puritan's Pride Specific Care Prostate
Puritan's Pride Specific Care Prostate includes a number of the main ingredients for prostate health with the addition of Bearberry extract which is not always present in most prostate health support supplement but is already starting to gain traction in the category. Does this mean that Puritan's Pride Specific Care Prostate delivers the results one looks for? Based on customer feedback it seems that it's completely down the middle. Reports and reviews are mixed at best.
While the return policy is strong, we do not like companies forcing customers to buy more than one bottle at a time.
Well researched reviews, from the experts at Research & You.