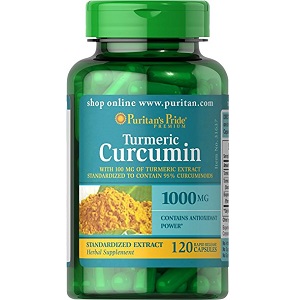 Puritan's Pride Turmeric Curcumin - Does It Work?-Review
What is Puritan's Pride Turmeric Curcumin?
Turmeric curcumin has been used for centuries in herbal medicine, most notably in Southeast Asia. Also a favorite ingredient in traditional cuisine, it holds plenty of health benefits that everyone should take advantage of. This herbal remedy has been used in medicine thanks to its natural antioxidant and anti-inflammatory properties which help in alleviating issues such as joint pain.
Another benefit that turmeric curcumin seems to offer centers around brain health. It has the potential to help reduce risk of brain disorders such as Alzheimer's. Does the Puritan's Pride Turmeric Curcumin deliver what it promises? Read our full review to learn more about this supplement.
Ingredients and How It Works
Turmeric (Curcuma Longa) (root) - 900 mg
Turmeric Extract (standardized to 95% curcuminoids)
Bioperine Black Pepper Extract - 5 mg
Turmeric curcumin is often used as a spice to give curry that yellow color as well as its signature rich flavor. However, turmeric is not just used as a spice as it also holds a plethora of health benefits. This natural spice can help alleviate joint pain, flush out free radicals and even improve cognitive brain function. As this particular supplement also contain bioperine, you are ensured that your body will be able to absorb the active ingredients more efficiently and more fully.
Daily Serving
We were unable to find a recommended dosage on the manufacturer's product page, which is not particularly impressive. Dosage instructions should be standard information for a reputable nutritional supplement website. We were able to track down the dosage by finding online images of the bottle label. Adult daily dosage for Puritan's Pride Turmeric Curcumin should be between one to two capsules per day. Take the capsule during meals and drink plenty of water as well to help the body absorb nutrients faster. If you wish, you can also open the capsule and mix in the powder content into your tea. This will not dilute the powder concentrate in any way. As always, we advise that you first consult with a doctor before using any kind of supplement, no matter how safe it claims to be.
The Cost
You are actually unable to purchase just one bottle of Puritan's Pride Turmeric Curcumin from the manufacturer's website. The minimum order is three 60-capsule bottles and is priced at $28.99. Six bottles will run you $57.98. If you want to try a single bottle before committing to more, go to Amazon where you can pick up a lone bottle for $10.79.
Guarantee
As with all of Puritan's Pride products, Puritan's Pride Turmeric Curcumin comes with a rigorous one year money-back guarantee. You can return the supplement and get a refund for any reason whatsoever, and this includes opened bottles Simply contact them through their official customer support page to learn how to process your return and refund request.
Our Review Summary of Puritan's Pride Turmeric Curcumin
Puritan's Pride Turmeric Curcumin should not only help in offering joint pain relief, it may also help improve mood. It can assist in reducing signs of depression as turmeric curcumin is also used to eliminate stress. It comes with a solid one-year guarantee and had an excellent customer rating score on Amazon at the time of our review.
However, what we're concerned about is the lack of information about the product on the manufacturer's website, especially when it comes to such basic information as dosage. We also don't love the fact that the product website forces you to buy at least three bottles.
Well researched reviews, from the experts at Research & You.