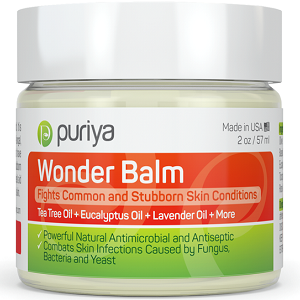 Puriya Wonder Balm - Does It Work?-Review
What is Puriya Wonder Balm?
This review of the product Wonder Balm examines the claims made by the maker, Puriya, by investigating the ingredients, guarantees, prices, and value of this product. Firstly, the manufacturer claims that this natural product is effective at treating fungal and bacterial infections, such as ringworm, athlete's foot, yeast infections, rashes, and pubic itching. This product may be used for any dry, itchy, cracked, inflamed, scaly, or painful skin.
Ingredients & How It Works
The ingredients in this product are:
Therapeutic grade tea tree oil
Eucalyptus oil
Lavender oil
Beeswax, olive oil
Canola oil
Macadamia nut oil
Eucalyptus Australiana oil
Vitamin E
Rose geranium oil
Cetostearyl alcohol
Vitamin C
Tea Tree oil is effective for treating fungal problems such as athlete's foot, nail fungus, and pubic itching. Eucalyptus  and  Australiana oil are anti-inflammatory and antibacterial oil.  Canola, and macadamia nut oils help to restore the skin's barrier function, assisting to reduce water loss. Also, the fatty acids moisturize the skin. Vitamin C repairs and treats skin damage, being an antioxidant. The ingredients bees wax and olive oil keep the balm on the skin for longer.
Daily Serving
Before applying this balm, the area needs to be cleaned. If a nail is being treated, it should be clipped to the nail bed. Otherwise, this ointment should be topically applied to the affected areas two to three times daily. Contact with eyes must be avoided, and treatment stopped if an irritation arises. This product is made from ingredients that contain nuts, therefore it must not be used by people with nut allergies.
The Cost
A two-ounce container of Wonder Balm costs $ 34.97, and may be bought online through Puriya's website. Alternatively, you can buy the product through third-party resellers. The company does not offer any bulk discounts.
Guarantee
The manufacturer offers a lifetime satisfaction guarantee. Although this means that you can try the product risk-free and without any questions asked, the guarantee policy doesn't encourage product reviews The company, does, however, require such feedback to build on and improve its product.
Our Review Summary Of Wonder Balm
The product Wonder Balm, by Puriya, is made of all natural ingredients. It acts as an anti-fungal treatment and relieves the symptoms of infection on the skin. This is accompanied by a lifelong manufacturer's guarantee. However, the product is expensive. It lacks active ingredients that allow the formula to penetrate deeply into the skin, resolving the problem, rather than merely superficially treating the fungus. The product is costly, yet the company offers no discounts for buying in bulk, making it more affordable. It may therefore be better to select another product that can offer the same result more cheaply.
Well researched reviews, from the experts at Research & You.