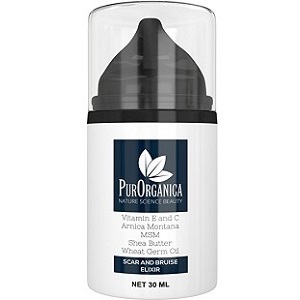 PurOrganica Scar and Bruise Cream - Does It Work?-Review
What is PurOrganica Scar and Bruise Cream?
This is a review of Scar and Bruise Cream, manufactured by PurOrganica. It claims to have the ability to heal, repair, and remove new as well as old scars. These scars could have been from a burn, surgery, an injury or even acne. The ingredients are claimed to be natural and organic. To learn more about how PurOrganica Scar and Bruise Cream works and if it is worth trying, read out review below.
Ingredients & How It Works
Organic Herbal Infusion
Organic Aloe Barbadensis
Plant Derived Glyceryl Stearate
Plant Derived Cetearyl Alcohol
Safflower Seed Oil
Plant Derived Stearic Acid
Sunflower Oil
Plant Derived Vegetable Glycerin
Palm Oil
Methylsulfonylmethane (MSM)
Wildcrafted Arnica Montana
Vitamin C
Shea Butter
Tamanu Oil
Wheat Germ Oil
Natural Vitamin E
Plant Derived Decyl Glucoside
Natural Preservative Glyceryl Caprylate
Sodium Carbomer
Sodium Hydroxide (pH Modifier)
Antioxidant Tocopherol
Ethylhexylglycerin (Preservative)
Honeysuckle Flower Extract
Honeysuckle Japonica Extract
PurOrganica Scar and Bruise Cream is filled with essential ingredient for the treatment of scars. There are however other key ingredients which are missing. These include onion bulb extract and jojoba. Another concern is that there is no indication to the amount of each ingredient. If there is too little of a certain crucial ingredient, the product may be ineffective.
Daily Serving
It is recommended by the manufacturer that you wash your hands properly before handling the cream. Apply a thin layer of PurOrganica Scar and Bruise Cream onto the affected area. It is suggested that one use it twice a day for best results and continue application as needed. Do not apply on stitches, open wounds or irritated skin. This product is only intended for the use on old and new wounds which have closed. If there is redness or irritation, stop using the product. If you are pregnant, lactating or on medication consult your practitioner before using PurOrganica Scar and Bruise Cream.
The Cost
PurOrganica Scar and Bruise Cream can only be purchased from third-party retailers. A bottle of 30 ml will cost $10.99. There are no discounts available or bulk purchasing packages offered by the manufacturer.
Guarantee
The manufacturer offers a 100% money-back guarantee. If you are not satisfied, you will have to contact the manufacturer for a full refund. This is a weak guarantee as there is no indication to how many days one has to send the product back and also no instructions on the condition the product must be in upon returning it.
Our Review Summary of PurOrganica Scar and Bruise Cream
PurOrganica Scar and Bruise Cream seems to be a decent product for scar treatment. It is filled with ingredients essential to the treatment and repair of scars and it comes with a money-back guarantee. We do however have a few concerns as well. Certain essential ingredients which is needed to help treat and repair scars and bruises is not found in this product. The manufacturer does not offer a strong guarantee which is very risky and concerning for customers who wish to purchase PurOrganica Scar and Bruise Cream. A weak guarantee could prevent customers from buying the product as they may run the risk of not getting a refund. Reviews on Amazon showed many customers complaining about the dispense pump on the bottle which stopped working after only a few tries. Due to these concerns, we are unable to recommend PurOrganica Scar and Bruise Cream.
Well researched reviews, from the experts at Research & You.