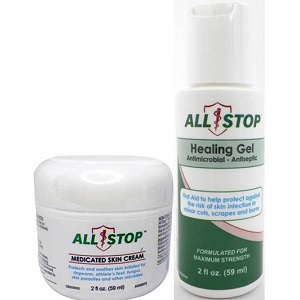 Q-Based Solutions All Stop Ringworm Pack - Does It Work?-Review
What is Q-Based Solutions All Stop Ringworm Pack?
The following review is for a product manufactured by Q-Based Solutions, called All Stop Ringworm Pack. This pack consists out of a medicated skin cream to help protect and soothe the skin and also a healing gel to help protect against the risk of an infection. To find out more about the ingredients in Q-Based Solutions All Stop Ringworm Pack and how the product works, read our full review below.
Ingredients & How It Works
Medicated Skin Cream:
Deionized Water
Mineral Oil
MSM
Polysorbate 20
Acrylates/ Acrylamide Copolymer
Mineral Oil
Polysorbate-85
Pine Oil
Tea Tree Oil
Sorbitan Laurate
Polyglyceryl-4 Laurate
Dilauryl Citrate
Healing Gel:
Benzalkonium chloride
Deionized water
Hydroxyethyl cellulose
Propylene glycol
Cetyl trimethyl ammonium chloride
Cocamidopropyl betaine
Imidazolidnyl urea
Cocamidopropylaminoxide
Octoxynol-9
Methyl paraben
Propyl paraben
Triethanolamine
Citric acid
Fragrance
The product is perfect for individuals that only have a few small ringworm sores on their skin. Together the ingredients help to soothe and repair the skin, whilst also preventing it from spreading. Q-Based Solutions All Stop Ringworm Pack does however lack an essential, clinically proven ingredient. Based on our research, the products do not contain 25% undecylenic acid. As a result, the product will not provide the individual with the strongest and most effective fungus fighting agent. This may result in a less effective product when comparing it with other brands.
Daily Serving
First, apply the Medicated Body Wash full-strength to the ringworm area and allow it to sit for no longer than 5 minutes. Then proceed to wash the entire body to prevent it from spreading. Secondly, apply a thin layer of Medicated Skin Cream and rub into the sores once in the morning. Do not rinse of or dilute. Thirdly, apply a thin layer of healing gel to the sores every night. Allow to air dry and don not rinse off. Continue these steps every day until the infection has disappeared. For more severe cases, follow these steps with application twice a day. Remember to allow 4 to 6 hours between applications. Other than these instructions, the manufacturer provides more helpful tips and guidelines.
The Cost
The products can be purchased directly from the manufacturer's website. Each pack will cost $24.95. We appreciate the fact that this is the discounted price of the product, indicating that the manufacturer cares for their customers.
Guarantee
The manufacturer offers a 30-day money-back guarantee, however, this is only for certain items. The manufacturer does not mention which items are not refundable. Also, only complete treatment kits will be refunded, if the entire kit was used and no results were seen. This means that one must purchase all products recommended in order for the treatment to be guaranteed. The concern we have with this is that the customer will not always be sure if the entire kit has been purchased or if they missed a product. Nonetheless, this is a weak guarantee as there are too many misguided rules.
Our Review Summary Of Q-Based Solutions All Stop Ringworm Pack
In our review of Q-Based Solutions All Stop Ringworm Pack, we found that the manufacturer provides helpful and clear information concerning the usage of these products, which we like. Also, the manufacturer offers a discount on the product. However, there are a few things about the products that we do not like. First of all, the products lack the presence of the most effective fungus fighting ingredient. Furthermore, there are no bundle deals made available. Finally, the manufacturer provides a very weak return policy - one which may result in financial risk.
As a result, we do not recommend the safe and effective use of Q-Based Solutions All Stop Ringworm Pack and suggest that you find an alternative anti-fungal product.
Well researched reviews, from the experts at Research & You.