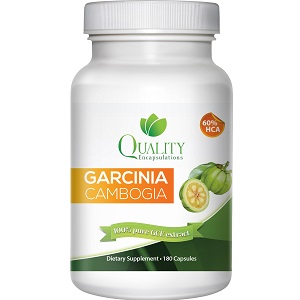 Quality Encapsulations Garcinia Cambogia - Does It Work?-Review
What is Quality Encapsulations Garcinia Cambogia?
The following is a review of Quality Encapsulations Garcinia Cambogia.
The thought of a supplement that prevents fat build up is quite an exciting concept for those wanting to lose weight. Quality Encapsulations have developed a supplement with Garcinia Cambogia to do just that. They claim that besides burning fat, this product keeps fat from even being generated. They maintain that it is an appetite suppressant as well as a raiser of serotonin levels thereby acting as a mood booster. They claim that is entirely safe, pure and effective. In curbing the appetite, blocking fat production and giving you an energy boost, they claim it to be a competent sustainable answer to slimming.
Ingredients & How It Works
60% HCA (Hydroxycitric acid) extract from Garcinia Cambogia (1000mg)
Calcium
Chromium
Potassium
Gelatin
These ingredients have been combined to enhance maximum absorption of the supplement. It is 100% natural, pure and safe to use as a supplement. The Garcinia Cambogia extract is taken from the rind of a fruit grown and eaten in India. HCA is a citric acid derivative from the fruit that may prevent and reduce fat accumulation in the body. Calcium is a vital chemical element for bone, teeth, muscle, circulation and digestive health. Chromium is a trace element needed for storage and metabolism of fats, carbohydrates and proteins, and Potassium aids in metabolizing glucose and insulin, as well as vascular toning, controlling blood pressure and aiding digestion.
Daily Serving
The website does not provide instructions for dosage.
The serving size on the packaging says to take 2 capsules per serving.
It is unclear on how it should be taken, whether with food or not, nor how often per day it should be taken.
The Cost
The website price is $33.50 per bottle of 180 capsules.
It is cheaper to purchase off their website rather than online on other websites. However, no discounts nor are there any bulk purchases are offered.
Guarantee
We could not find information about guarantees on their website. We believe, however, that they offer a full refund if you not entirely satisfied.
At the time of writing this review, there were no consumer remarks about the product on their site.
Our Review Summary of Quality Encapsulations Garcinia Cambogia
This product has some potential in enabling weight loss and being able to stop fat being formulated right from the start. We like the fact that it is completely natural and pure and that it is designed for maximizing absorption. Quality Encapsulations have only been in existence for 3 years, but they have focussed their research and finances on a limited number of products. We can't say how long a bottle will last with no clear information of usage. We found their website to be uninspiring, too much reading with little relevant information.
Well researched reviews, from the experts at Research & You.