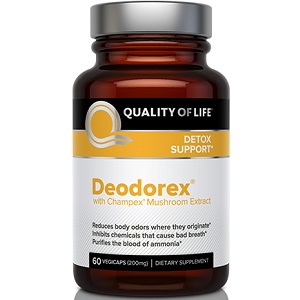 Quality of Life Deodorex - Does It Work?-Review
What is Quality of Life Deodorex?
This review is going to take a closer look at Quality of Life Deodorex to learn more about how this product works and to see if it worthwhile trying out. Deodorex is a dietary supplement made up of Champex that is designed to cleanse your system from odor-causing toxins. The manufacturer claims that their product will effectively reduce body odors where they originate by decreasing levels of the toxic chemicals in your intestines and blood. They claim that taking this product reduces your body odor up to 60%, inhibits the chemicals that cause bad breath, purifies the blood of ammonia, maintains normal uric acid levels and will support your kidney health.
Ingredients & How It Works
This product contains Chapmex which consists of Concentrated Champignon extract (Agaricus bisporus), dextrin, and DL-malic acid. Champex suppresses odor compounds through its methanethiol and alkylthiol with the phenols of the mushroom.  Every VegiCap contains a 500 mg serving. It also has the ability to neutralize the toxic odor-causing substance like ammonia, indole, mercaptan, hydrogen sulfide and amine from the intestines and bloodstream.
Daily Serving
Quality of Life recommends taking 1 VegiCap in the morning and 1 VegiCap in the evening, together with a meal. To fight bad breath you should empty out the contents of one capsule into a small amount of water, rinse for 30 seconds and spit out.
If you are under medical supervision, pregnant or nursing, you should consult with your doctor before taking this product.
The Cost
This supplement is available to purchase online directly from the manufacturer or from third-party retailers. One 60 VegiCap bottle is priced for $29.95. They do not offer any bulk purchasing packages or discounts.
Guarantee
The manufacturer offers a 30-day money-back guarantee but only for unopened bottles that are returned in the same condition that you received them. This is risky because it means that if you try this product and experience adverse side effects or are not satisfied, you cannot get your money back.
Our Review Summary Of Quality of Life Deodorex
Deodorex appears to be a promising product that can help you eliminate bad breath and body odor. It is made of an active ingredient that has been shown to cleanse your body from toxins that can cause you to excrete odor. This product is backed by a manufacturer's guarantee, which is a plus but that being said, their guarantee is one of the weakest we have seen. They do not offer refunds on bottles that have been opened which means that if you purchase Deodorex and it doesn't work for you, you can't get your money back. Thirty days is also not necessarily enough time to be able to make a determination of whether or not a supplement is worthwhile. Furthermore, each bottle is expensive relative to other internal deodorizers we have seen on the market but the manufacturer does not offer any bulk purchasing packages to make it financially easier to choose their supplement to continuously take for relief from odor. You are better off purchasing a supplement that is backed by a strong manufacturer's guarantee and one that offers bulk purchasing options.
Well researched reviews, from the experts at Research & You.