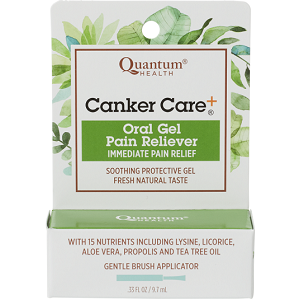 Quantum Health Canker Care+ Oral Gel - Does It Work?-Review
What is Quantum Health Canker Care+ Oral Gel?
Just about anyone can get a canker sore. Canker sores are ulcers that occur in the softer parts of the mouth like on the cheeks and on the gums. They can be caused by a range of factors that include genetics, nutritional deficiencies and even stress. Fortunately, there are a number of options for relieving canker sores and the pain associated with them. This review looks at a product called Quantum Health Canker Care+ Oral Gel that contains a natural ingredient to relieve pain from canker sores.
Ingredients & How It Works
There is one active ingredient in this product which is menthol. It does contain other ingredients that are used in other natural products but it specifically lists them as inactive, which means that the manufacturer does not rely on these to produce the result they claim.
Menthol has been approved as a local anesthetic and soothing agent. It increases sensitivity of the cold receptors in damaged tissue which reduces pain and itching. It has also been shown to reduce the development of a secondary infection because of its antimicrobial properties. It is at a concentration of 0.5% in this product.
Daily Serving
Quantum Health Canker Care+ can be applied to the canker sore between one and four times per day. This can be done using the brush that is supplied along with the product. The manufacturer doesn't specify, but we recommend applying the product when you have finished eating so that food cannot remove it.
The Cost
33 fl oz of can be purchased online directly from the manufacturer for $8.29. The manufacturer has a rewards program that the customer can sign up for to receive certain discounts that vary from time to time. Otherwise, the prices do not include shipping or taxes.
Guarantee?
The customer may contact the manufacturer within 30 days of purchase to request a refund if they feel that they are unsatisfied. The guarantee doesn't state what condition the product needs to be returned in so customers should be wary as they may not be granted a refund if the return does not fit in with certain conditions.
Our Review Summary of Quantum Health Canker Care+ Oral Gel
The active ingredient in This product is incredibly well researched and even approved as a pharmaceutical. Customers can rest assured that it is very likely to relieve the pain or itching of a canker sore. It is unfortunate that the manufacturer does not see the other ingredients as important and they don't list their concentration so it is difficult to say what their role is in this product.
We also appreciate the manufacturer offering a guarantee but the guarantee is only valid for a short period of time which doesn't allow the customer to test the product efficiently and the manufacturer is not clear about what condition the product must be returned in to receive the refund. 
Well researched reviews, from the experts at Research & You.