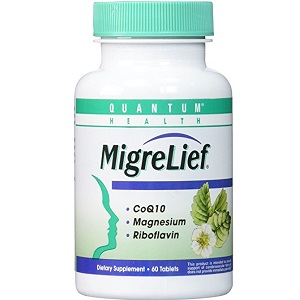 Quantum MigreLief - Does It Work?-Review
What is Quantum's MigreLief?
The following is a review of the product MigreLief by Quantum. This product is said to offer relief for chronic migraine sufferers within a 3-to-6-week period. In addition, this supplement supports a healthy brain blood vessel function.
Ingredients & How It Works
The active ingredients are:
Riboflavin (200 mg) – This is a B vitamin found in meat, nuts, eggs, and green vegetables. This element reduces the number of migraine attacks, however it does not lessen the pain.
Magnesium (as magnesium oxide and citrate, 200 mg) – This supplement is needed since people with migraines normally lack magnesium.
Coenzyme Q10 (75 mg) – This element can reduce the damage done to cells either by the environment or for other reasons.
Other Ingredients: Microcrystalline cellulose, stearic acid, croscarmellose sodium, magnesium stearate, silicon dioxide.
Daily Serving
It is recommended by the manufacturer to take one pill twice per day, or as otherwise instructed by a health-care professional. The manufacturers also state that cerebro-vascular benefits will only be noticeable after 4 to 12 weeks. There is a warning: pregnant and breastfeeding mothers must first consult their doctors before taking this supplement. In addition, there is a warning that this supplement may lead to reactions for people allergic to the daisy or ragweed family of plants.
The Cost
A bottle of MigreLief containing 60 tablets costs $19.99 to buy direct from the company's website. On third-party sites, the same bottle has a purchase price of $24.99. Nonetheless, on the manufacturer's site, free shipping is offered if you buy 3 or more bottles; however there is no discount on the unit price of the bottles.
Guarantee
The manufacturer offers a 100% money back guarantee on a new client's first purchase of up to 3 bottles. For those few, the company allows 90 days for the return of the product if not satisfied with it. However, the company deducts a shipping fee and a handling fee of $7.99 per return. For others, there is no refund on any sale made.
Our Review Summary Of MigreLief
The product MigreLief, by Quantum, if used for a long period could reduce the number of migraines you experience. Also, all the ingredients used in the formula are from natural sources. That said, there are some concerns about this supplement. Firstly, it has to be taken over a long period to be effective. It does not offer any pain relief for an attack of migraine. Secondly, the company offers no real guarantee for returning clients. Once you have bought another product from this company, then wish to try Migrelief, you will not qualify for the money-back option. It may therefore be better to opt for another product. There are many more that offer a solid guarantee on their products. Such products also offer management of the symptoms of pain associated with a migraine attack.
Well researched reviews, from the experts at Research & You.