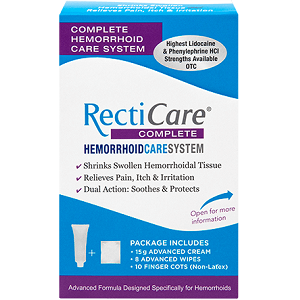 RectiCare Complete Hemorrhoid Care System - Does It Work?-Review
What is RectiCare Complete Hemorrhoid Care System?
This all-inclusive product offers a holistic method of rectifying painful and itchy hemorrhoids. It is a complete hemorrhoidal caring solution, in that it provides a cream, latex free finger applicators as well as wipes which are individually wrapped for ease of use on the go. This offers dual treatment options throughout the day. They claim that their product shrinks the swollen tissue, whilst relieving pain, irritation, and itches. Their claim is that it contains the greatest strength of lidocaine and phenylephrine HCL obtainable over the counter. This formula is claimed to soothe and protect piles and provide effective pain relief rapidly. The following is a review of RectiCare Complete Hemorrhoid Care System.
Ingredients & How It Works
The Cream consists of:
        Lidocaine 5%
        Mineral Oil 17%
        Phenylephrine HCl 0.25%
        White Petrolatum 39%
        Ceteth 20
        Cetostearyl Alcohol
        Citric Acid
        Propylparaben
        Purified Water
The Lidocaine is a tissue numbing medication. Phenylephrine narrows the inflamed veins and relieves pain. Together they reduce the irritation, pain and swelling. The combined ingredients serve to lubricate, soothe, protect and cleanse the affected areas.
The Wipes contain:
        Glycerin 20%
        Lidocaine 5%
        Phenylephrine HCl 0.25%
        Benzyl Alcohol
        Citric Acid
        Purified Water
The wipes are nonallergic that provide hygienic antiseptic, soothing and numbing of the hemorrhoidal area whilst leaving a protective layer over the raised tissues.
Daily Serving
If possible, the area should be cleaned with warm water and a mild detergent first.
The cream should be externally applied to the problem area and can be used up to 4x per day.
The wipes must be applied by gentle patting of the cleansed affected area. They should be discarded after use and not flushed.
These products are for use by adults and children over 12.
A combined usage of 4 applications of wipes and cream per day should not be exceeded.
Should excessive rectal bleeding be experienced, a doctor should be consulted.
The Cost
The website offers a $3.00 off coupon. Prices are not mentioned on the website.
RectiCare is directly available from Walgreens and CVS Pharmacy at $29.99 per package.
Purchasing online is also available for the same price.
Guarantee
The manufacturers, Ferndale Healthcare Inc, offer a full cash back guarantee on their RectiCare products within 30 days if you on dissatisfied for any reason.
Within the 30 days of purchasing, the product may be returned with the receipt to the manufacturers who will either exchange the product or reimburse the client, less delivery costs.
Their clients on their website have posted almost 100 % satisfaction of this product. However, when looking at reviews from other trusted sources, people complained that the product was quite expensive and that the wipes were insufficient.
Our Review Summary Of RectiCare Complete Hemorrhoid Care System
From our evaluations, we assess that this is a good system for painful, itchy and swollen hemorrhoids. We are impressed that there is a guarantee of the product, even if the product has been partially used. We like the holistic package of two options of treatments for different uses throughout the day. We like the fact that the wipes are wrapped individually and compactly presented for carrying outside of the home. It's a pity that there are no internal solutions, that other leading brands offer. It is unfortunate that there are few natural compounds in their ingredients and mainly chemicals. It seems that there might be cheaper, more effective brands on the market.
Well researched reviews, from the experts at Research & You.