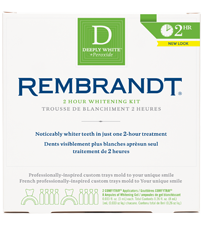 Rembrandt Whitening-Review
Most people have heard of Rembrandt whitening which is less expensively priced than many of its competitors. An average consumer would like to have whiter teeth but not have to pay too much to achieve that objective. So there's a good chance that such people will consider Rembrandt for its favorable pricing policy.
About the Product
Rembrandt is among the rare teeth whitening systems that are available for purchase off the shelf at supermarkets and grocery stores, rubbing metaphoric shoulders with the likes of Crest Whitestrips. The company doesn't spend a lot on promotion but instead tries to stay competitive on the basis of its low price.
How it Works?
The company promotes its Deeply White 2 hour kit with the slogan, "Nothing will get your teeth whiter more quickly". The system has trays that can mold to fit your teeth as similar to ones used by dentists. But the company prefers to play safe and uses a disclaimer that the product does not pretend to compete with the UV systems currently being manufactured by competitors.
How Much it Costs?
The manufacturer operates in an industry known for its expensive prices owing to dentists who have set the price bar inordinately high. This ensures that Rembrandt, even while charging less than the competition, is still making a good margin on its products, even as end users are willing to pay premium prices for dental products. Rembrandt whitening systems operate on the back of their low price USP, with their two-hour whitening kit bearing a price tag of less than $10.
How You Make it Work?
Most users of whitening systems look for quick fix solutions, but yet will not complain if they have to wait a while for the results. Depending on your urgency, you can choose from a suite of products offered by the company.
Final Review
Sifting through real user reviews, a common complaint has emerged about Rembrandt that it causes a burning sensation in the lips and gums. That said, there are also a large number of flattering reviews, some of which sound a trifle too flattering, and are possible corporate shills. Especially under the circumstances that most reviewers feel the product causes burning of the mouth, it is hard to visualize such a wide range of reviews. As many as 70% of reviewers talk about the burning of their mouth by Rembrandt while just 30% say the product worked. Their teeth whitening system is a form of brand extension for Rembrandt; the company also manufactures toothpaste, mouthwash and other products aimed at maintaining your oral health between treatments. Rembrandt also offers variants such as strips and trays, for the application of its whitener. In the final analysis, Rembrandt has got most things wrong barring the price. Apart from finding the whitener painful, real users also talk about the product's lack of ease of use, and its ineffectiveness in doing what it promises to do. Sometimes users are tempted to compromise with respect to the quality of a product just because of its affordable price. Rembrandt is a prime example and it's definitely not worth such a compromise, as the product does not have sufficient redeeming quality for a user to be able to ignore the negatives. There are many better products on the market that don't have any of the problems associated with Rembrandt, such as burning of the mouth and causing of sensitivity to teeth. Rembrandt is also not technologically in step with competitors, and it is impossible to sweep the lack of quality under the carpet, regardless of the low-price of the product.
Well researched reviews, from the experts at Research & You.