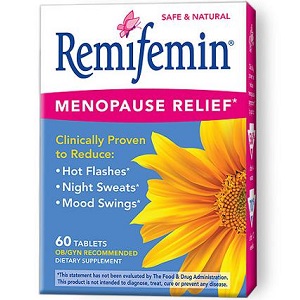 Remifemin - Does It Work?-Review
What Is Remifemin?
Menopause can be a frustrating stage of womanhood due to the discomfort of the symptoms that accompany this transition and that can significantly and negatively affect quality of life, sometimes for years. There is no shortage of nutritional supplements, many all-natural, that aim to help reduce the discomfort. Here we review Remifemin. The manufacturer claims that this product is clinically proven to help ease multiple menopause-related conditions such as irritability, night sweats, mood swings, and hot flashes and that it can be used in place of hormone replacement therapy. Is Remifemin the right approach for you? Read our review below and decide.
Ingredients and How It Works
The lone active ingredient in Remifemin is 20 mg of black cohosh root extract. This herb, native to North America and part of the buttercup family of plants, has been found by some studies to notably reduce menopause-related symptoms.
Other ingredients are:
Lactose
Potato starch
Magnesium Stearate
Cellulose
Natural Peppermint flavor
Daily Serving
For best results, the manufacturer recommends a dosage of one tablet taken in the morning and the other in the evening with a glass of water. Remifemin points out that you should expect results in just a few weeks.
The Cost
The manufacturer does not sell the product directly to retail customers. However, you can buy it from Amazon where, at the time we were concluding this research, it was selling for $18.44.
Guarantee
Remifemin comes with a minimally useful return policy, accepting only unopened product for return and refund within 60 days of purchase. A return authorization number, obtained from the company's customer service department, is required to initiate a return.
Our Review Summary of Remifemin
All women will undergo menopause although the degree and range of symptoms that will result varies greatly among individual women. Remifemin, the subject of this review looks like a reasonable if, perhaps, limited solution to menopausal symptoms with its single active ingredient of black cohosh.
However, there are some downsides that should be noted. First, if you happen to be someone who doesn't respond to black cohosh, there are no other ingredients to pick up the slack provide relief. Also, during this analysis, we discovered that most research on black cohosh and its effect on menopause endorses dosages of about 250 mg. Compared with the 20 mg offered by Remifemin. And while there is a money-back policy in place, it is restrictive in only accepting unopened product for return. We understand that the manufacturer cannot resell used product and might take a loss on such returns. But allowing users to try and assess the effectiveness of a nutritional supplement is a policy offered by many companies and one that, when in place, would indicate the company's confidence in its product. Finally this product has not been cGMP certified with so quality and safety remain undetermined.
Well researched reviews, from the experts at Research & You.