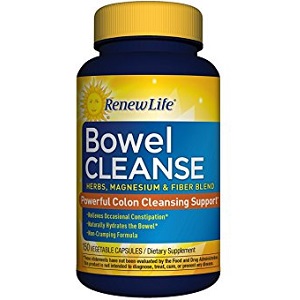 Renew Life Bowel Cleanse - Does It Work?-Review
What is Renew Life Bowel Cleanse?
This review is going to take a closer look at Renew Life Bowel Cleanse to learn more about how it works and to see if it is worth trying out. This cleanse is made up of a variety of ingredients that are designed to help flush out your system to relieve constipation. The manufacturer claims that their cleanse offers powerful colon cleansing support, relieves occasional constipation, naturally hydrates the bowel and comes in a non-cramping formula.
Ingredients & How It Works
Magnesium (as magnesium oxide) - 200  mg

Triple Fiber Blend (Organic Oat Fiber, Organic Flaxseed, Organic Acacia fiber) - 1,350 mg

Rhubarb root - 450 mg

PhytoSorb Blend (Organic Ginger root, Organic Fennel seed, Cellulase, Papaya leaf, Organic Cayenne Pepper, Organic Coriander seed, Organic Cumin Seed, Gentian root, Organic Black Pepper, Organic Peppermint leaf and Organic Spearmint leaf) - 100 mg

Organic Marshmallow root - 25 mg

Organic Slippery Elm Bark - 25 mg

Okra Herb - 25 mg
Inactive Ingredient: Vegetable Capsule
Daily Serving
Renew Life recommends taking 5 capsules in the morning. You may repeat this dosage again in the evening. The advise drinking plenty of water while using this product and you may take this product consecutively for thirty days.
If you are under medical supervision, pregnant or nursing, you should talk to your doctor before taking this supplement.
They recommend that you immediately stop taking this product if you develop diarrhea or abdominal pain.
The Cost
You can purchase this supplement directly from the manufacturer and from third-party retailers. It is available on the manufacturer's website for $19.99 per 150 capsule bottle. Renew Life offers a 15% discount per bottle and free shipping if you choose to auto order.
Guarantee
The manufacturer offers a 60-day money-back guarantee that excludes the shipping costs. They do not say if their policy applies to both opened and unopened bottles. We advise contacting their customer service to inquire about their up to date return policy, should you choose to move forward with this cleanse.
Our Review Summary Of Renew Life Bowel Cleanse
Bowel Cleanse appears to be a decent tool that can help cleanse your colon in order to achieve regular and easier to pass bowel movements. It is made up of a variety of ingredients that have individually been shown to help clean out your system and it comes in easy to take capsules. However, it appears that the capsules might be weak because the manufacturer recommends taking up to ten capsules a day. This suggests to us that the individual capsule is not potent and it is also concerning because it means that if you follow the manufacturer's dosage instructions one bottle can end up lasting you only fifteen days. The consumer feedback we saw is consistent with this theory because many of the reviews we saw are negative. Consumers reported that this cleanse does not work and that they did not feel any effects after continuously taking this cleanse as instructed by the manufacturer. Another common consumer complaint was that the dosage recommendation is exorbitant. You are better off purchasing a cleanse that has effective and potent ingredients and one that has positive consumer reviews.
Well researched reviews, from the experts at Research & You.