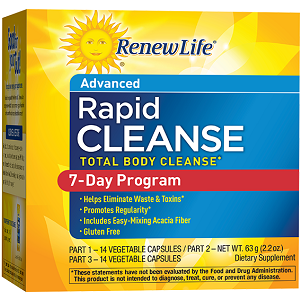 Renew Life Rapid Cleanse - Does It Work?-Review
What is Renew Life Rapid Cleanse Review?
This 7-day program claims to remove waste and toxins from the body, and to promote regularity. This is a review about Rapid Cleanse. This is a product which is divided into three parts. Part one supports detoxification. The second makes use of acacia fiber to assist with cleaning out of digestive toxins. The third part supports a healthy bowel function.
Ingredients & How It Works
This supplement comes as a three-part treatment. There is a capsule to be taken in the morning (the morning solution). The capsule taken in the evening contains the evening solution. There is also a capsule known as a jumpstart.
Morning solution (for 4 capsules):
Vitamin B2 (5 mg)
Vitamin B12 (50 mcg)
The proprietary blend (2347 mg) consists of – Burdock root, turmeric root, gentian root, dandelion leaf extract, schizandra berry, juniper berry, cascara sagrada bark, fibersol-2, licorice root, red root extract, milk thistle seed extract, cayenne pepper, green tea leaf extract, guarana seed extract, and echinacea purpurea herb extract.
Evening solution:
Dietary Fiber (4g)
Soluble Fiber (4g)
Jumpstart solution:
Magnesium (230 mg)
Eliminate Blend (1200mg) – Rhubarb root, Cape Aloe leaf, Marshmallow root, Slippery Elm bark, Triphala
Other ingredients: gelatin, calcium carbonate, magnesium stearate, silicon, dioxide, cellulose, titanium dioxide.
Burdock root, used in customary Chinese medicine, is a diuretic. Milk thistle is acknowledged to clean and repair the liver's function after exposure to toxins. Green tea extract enhances the metabolism. Dandelion is an herb that promotes a healthy liver function. Uva ursi is known for healthy urinary and kidney functions. Creatine monohydrate helps with balancing the body during a detox. Apple pectin is a great source of fiber.
Daily Serving
The recommendation from the makers: take 4 capsules daily of the morning solution on an empty stomach with 16 ounces of water half an hour before breakfast. Then, exercise for 15 minutes. In addition, eat two snacks each day with 16 ounces of water, as well as lunch with another 16 ounces of water. Besides the morning program, in the evening, take 4 capsules on an empty tummy, with 16 ounces of water, just half an hour before eating. Follow that with 15 minutes of exercise. 15 minutes later, drink 12 to 24 ounces of water. This program should be followed for 7 days. However, keep meals small, urinate regularly and avoid unhealthy foods.
The Cost
A box containing the three bottles is available online for $20.45. No discounts are available. If you purchase in bulk discounts would be much more economical.
Guarantee
The manufacturer does offer a 60-day money back guarantee, minus shipping and handling fees. However, the company does not indicate in what shape you need to return the products.
Our Review Summary Of Rapid Cleanse
Rapid Cleanse comes with a 60-day money back guarantee, and all the ingredients are natural. In addition, our research found that the reviews on this product are highly reliable. However, we had some concerns with this product. Firstly, the return policy is vague. There is no indication in which condition the items should be returned to qualify for the refund. Secondly, no discounts are available. Thirdly, the dosage instructions are muddled, making it difficult to adhere to the full program.
Well researched reviews, from the experts at Research & You.