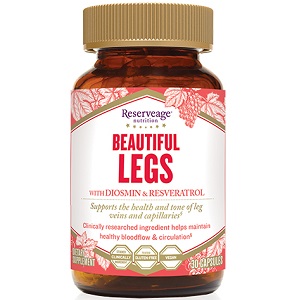 Reserveage Nutrition Beautiful Legs - Does It Work?-Review
What is Reserveage Nutrition Beautiful Legs?
Today we are review Reserveage Nutrition Beautiful Legs. This is a supplement for the treatment of varicose veins, spider veins, and other venous issues. The two main ingredients are Diosmin and Resveratrol, which the manufacturer claims help support the health and tone of veins and capillaries. This product is also designed to diminish the appearance of spider veins. Varicose veins are a highly prevalent problem with approximately 25% of women and 18% of men likely to suffer from the condition in their lifetime. Keep reading to learn if this supplement can help your varicose or spider veins
Ingredients & How It Works
Proprietary Blend - 100mg
Diosmin - 600mg
Grapeseed extract - 30mg
Horse chestnut - 80mg
Butcher's broom - 30mg
Hesperidin - 30mg
Vegetarian capsules
Rice bran
Silica
Diosmin helps to maintain vein structure and smooth skin tone, and also helps combat swelling often resulting from standing on the feet for long periods of time. Diosmin also promotes healthy blood circulation and oxygenation.  The main ingredients are a blend of trans-Resveratrol from wildcrafted Polygonum caspidatum combined with Grape Seed Extract together with Diosmin.
Daily Serving
Take 1 capsule daily either on an empty stomach, with food or as recommended by your healthcare professional. The following warnings were stated on the company website and should be adhered to carefully before beginning treatment. Keep out of children's and pet's reach. Consult your healthcare professional before using this product, especially if you are pregnant, nursing, have existing medical conditions or are taking prescription medications.
The Cost
The manufacturer's website sells a bottle of 30 capsules for $28.99. There are no discounts from the manufacturer and no bulk packages that can be purchased. Other retailers can be found by following the instructions on the manufacturer's website and may offer better pricing and /or discounts.
Guarantee
There was no explanation of a guarantee on the company website, although it is possible that third-party retailers will offer their own guarantee.
Our Review Summary Of  Reserveage Nutrition Beautiful Legs
There are a few things we like about Reserveage Nutrition Beautiful Legs. It seems like an all natural product and the capsules can be taken either with or without food. We found that the instructions on how to use it and when to take the capsules are straightforward. We do have negative comments too.  There is no mention of any form of guarantee on the company website, and no discounts available for bulk purchases.  A weak or non-existent guarantee and return policy will likely dissuade customers from purchasing this product. At $28.99 for a 30 pill bottle, we feel this is a high cost especially coupled with the lacking return policy. We also saw very mixed reviews for this product suggesting that it has questionable therapeutic value for many people. Therefore at this time, we cannot recommend Reserveage Nutrition Beautiful Legs.
Well researched reviews, from the experts at Research & You.