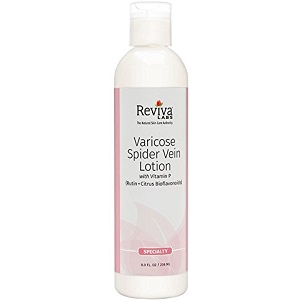 Reviva Labs Varicose Veins Lotion - Does It Work?-Review
What is Reviva Labs Varicose Veins Lotion?
Today we review Reviva Labs Varicose Veins Lotion with Vitamin P.  The company claims that this cream will help to lessen the appearance of varicose and spider veins, and also to reduce swelling around the ankles. It is also designed to improve circulation and strengthen the vein walls. Keep reading to see if Reviva Labs Varicose Veins Lotion can help your varicose veins heal.
Ingredients & How It Works
Purified Water
Safflower Oil
Glycerin
Octyl Palmitate
Glyceryl Stearate
Stearic Acid
Cetyl Alcohol
Tromethanmine
Lemon Bioflavonoids
Horse Chestnut Seed Extract
Beeswax
Orange Oil
Carbomer
Hydrolized Soy Protein
Allantoin
Mixed Tocopherols (Vitamin E)
Panthenol
Aloe Barbadensis Leaf Powder
Phenoxyethanol
Ethylhexylglycerin
The manufacturer's website does not explain how these ingredients work and what the specific benefits are of each ingredient and how they work to treat and prevent varicose veins and why they were chosen to be a part of this formula.
Daily Serving
Reviva Labs recommends massaging the lotion onto the affected area each morning. For best results use twice daily. There are no detailed instructions about letting the lotion dry, or whether you can wet the area after applying. This would have been helpful to see.
The Cost
On the Reviva Labs website, the price is $25.30 for an 8oz bottle. This product can be also be purchased on Amazon or other online retailers. An 8 oz. bottle from Amazon costs $19.10 plus free shipping. Always best to shop around for the best deal possible.
Guarantee
We were not able to find a manufacturer's commitment to a guarantee or money back policy anywhere on the Reviva Labs website.
Our Review Summary Of Reviva Labs Varicose Vein Lotion
There were a few things we liked about Reviva Labs Varicose Vein Solution. We like that it is an all natural product and is free of animal testing. When looking at the consumer review responses on Amazon, there were some positive reviewers who said the lotion was helpful in reducing varicose veins, but there were also many negative comments from people who said it was not helpful at all. Some people found the lotion difficult to dispense from the narrow opening of the container. Among the negatives are a lack of a guarantee and almost no explanation of what the ingredients in the lotion do and what the possible side effects of the lotion might be. The website doesn't explain what vitamin P is which is surprising because it is part of the product name. Lastly, we were somewhat surprised that the manufacturer's website price was so much more than the price on Amazon, and that there were no discounts coupons nor bulk order discounts offered. For these reasons, we are unable to recommend the Reviva Labs Varicose Vein lotion at this time.
Well researched reviews, from the experts at Research & You.