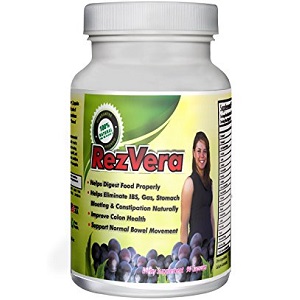 RezVera Stomach Protection - Does It Work?-Review
What is RezVera's Stomach Protection?
Read our review below about the dietary supplement Stomach Protection. The manufacturer claims that this health product can improve your colon health, help with your overall digestive system, assisting with regular bowel movements. This product purports to overcome the symptoms normally associated with Irritable Bowel Symptoms (IBS).
Ingredients & How It Works
2 capsules contain the following:
Protease 1 (20,000 hut)
Protease 2 (4000 hut)
Acid stable protease (100 supu)
Amylase (5,000 dh)
Lipase (1,250 fip)
Cellulase (500 cu)
Glucoamylase (50 agu)
Invertase (10 su)
Catalase (50 bu)
Ags a-galactosidase (50 galu)
Beta-glucanase (65 bgu)
Pactinase (1,500 ajdu)
Xylanase (125 xu)
Phytase (10 pu)
Hemicellulase (750 hcu)
Lactase (500 alu)
Bromelain (500,000 pu)
Papain (500,000 pu)
Aloe vera (20mg)
Resveratrol (40mg)
This formula contains various enzymes that work to digest protein, carbohydrates, dairy products, and fats. Aloe vera, besides having an anti-inflammatory effect on the gut, combats diarrhea and constipation. Resveratrol has also been found to help with the symptoms associated with IBS, namely intestinal inflammation and diarrhea. Other Ingredients: gelatin, magnesium stearate, and calcium carbonate. The origin of the magnesium stearate is not stated. This may be either animal or vegetable sourced. In that these capsules contain gelatin, this may not be relevant. These capsules are not suitable for vegans or vegetarians.
Daily Serving
It is the manufacturer's recommendation to take one (1) or two (2) capsules after each meal. Instructions, however, are not clearly and easily stated: we had to search for the recommended dosage. The manufacturers advise that, if the capsules are too big to swallow, they may be opened and taken in powder form.
The Cost
This product is available online, directly from the manufacturer. There are three different purchase options available. 1) Buy one (1) bottle at $57.97. 2) Buy two (2) bottles at $119.94 and get one (1) bottle free. 3) Commit to a monthly auto-ship program and pay $32.99 per bottle. However, with the latter option, you will be locked in to a contract. As you receive a bottle every 30 days, the amount will be deducted monthly from  your credit card.
Guarantee
The manufacturer offers a money-back guarantee. If a consumer is not satisfied with a product it may be returned within 90 days of purchase. Only the bottle need be returned. Any remaining capsules may be kept. A refund will be made (minus shipping and handling fee) after a return form has been completed. Instructions from the service department must be followed. This includes receiving the return merchandise authorization number. Refunds will be made one billing cycle later.
Our Review Summary Of Stomach Protection
Stomach Protection is an all-natural supplement aimed at treating the symptoms associated with IBS. It comes with a 90-day money-back guarantee, even though the return policy is rather complex to follow. Either way, there are some issues. Firstly, even though a buyer can receive 45% off each bottle, this is only available after signing up for the subscription service. Funds being deducted from a credit card every 30 days may be difficult to cancel.
Well researched reviews, from the experts at Research & You.