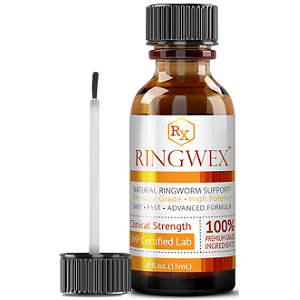 Ringwex - Does It Work?-Review
What is Ringwex?
Ringworm may not be the most serious ailment out there but for anyone who has dealt with the itching and scaly skin, hair loss and blister-type lesions that come along with this fungal infection, it's a condition that needs to be treated and cured.
Ringwex is a ringworm treatment in the form of a topical liquid solution that aims to reduce the severity of the infection and preventing the fungus from reproducing within the skin. It also is formulated to combat itchiness and blisters and it contains vitamins that are said by the manufacturer to be helpful in speeding up the healing of the affected skin. Is Ringwex the right product to help deal with your ringworm infection? Read our detailed review below to get the facts and make an informed decision.
Ingredients & How It Works
Ringwex contains a large variety of ingredients:
Undecylenic Acid (25%)
Walnut Oil
Tocopheryl Acetate
Menthol
Lavender Oil
Manuka Oil
Essential Oil Blend (proprietary)
First and foremost, Undecylenic Acid is an antifungal component that helps get at the source of the infection. The Manuka Oil and the proprietary Essential Oil Blend also contribute to the antifungal action. Tea Tree and Clove Bud Oils each bring antiseptic abilities to help sooth and heal. Bee Propolis and Menthol both help to reduce swelling of the skin and the latter also has a cooling analgesic effect. Clove Bud Oil also has pain-reducing abilities.
Daily Serving 
The instructions for use are straightforward. Use the included applicator brush to apply a coating of the solution two to four times a day, depending on the seriousness of the infection. If a rash or other irritation occurs as a result of use you should discontinue it immediately.
The Cost 
Ringwex is available for retail purchase on the manufacturer's website. Pricing varies with quantity. A single bottle of Ringwex, containing 0.5 fluid ounces or 15 ml, is priced at $49.95. A two-bottle set brings the price down to $34.95 per bottle. The four-bottle "Intermediate" package sells for $27.95 per bottle and the "Best Value" pack, a six-bottle set is the best buy, per unit, at $23.30.
The company accepts major credit cards, Paypal and Amazon Payments.
Guarantee
Ringwex comes with an extensive money-back guarantee that covers the product for 60 days. If within that time period, you're not satisfied, you can return both used and unused bottles for a no-question-asked refund of the purchase price.
Our Review Summary of Ringwex
Ringworm can be a nasty business. Ringwex offers a topical treatment with a unique formulation of compounds that the company notes have been shown, in clinical research, to be effective in treating ringworm. This research-based approach is appealing. In addition, we like the fact that the company encourages new customers to try its product risk-free for up to 60 days. This denotes, for us, a company that believes in its offering. We feel confident in our recommendation of this product.
Well researched reviews, from the experts at Research & You.