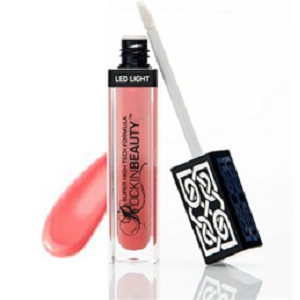 RockinBeauty 3D Lips Hydra Gloss - Does It Work?-Review
What is RockinBeauty 3D Lips Hydra Gloss?
It's really difficult to review a beauty product like RockinBeauty 3D Lips Hydra Gloss when the manufacturer shares very little meaningful information. Nevertheless, in this review we will share what we have been able to find out.
Essentially, RockinBeauty 3D Lips Hydra Gloss is a lip gloss that also claims to be a lip plumper by helping to reduce lip wrinkles and increase lip volume. It comes in a host of different shades, all with popular girls' names: Denise (shimmering berry pink), Helena (quartz rose), Diana (candy apple red); Alison (Magenta Pink); Justine (Cabernet Wine), Tala (cotton candy with gold flecks); Vy (shimmering papaya); Danielle (natural sheer pinky nude); Telma (soft nude) Kiki (rich plum burgundy);  Corinne Renee (deep red), and Serenity (pearly peach). Then there is a clear shade (To the Max) which can be worn over any lipstick, or overnight as a lip treatment.
Ingredients & How It Works
We were unable to find any detailed information about the ingredients used to make this product. All we could ascertain is that it contains Collagen Peptides which are said to speed cell renewal, reduce lip wrinkles and increase lip volume, making them look larger and lusher. But we have no way of knowing how this collagen is delivered, nor what Peptides are used. We also do not know if the product contains any animal-derived ingredient (although the manufacturer states that all its products are Animal Cruelty Free). Interestingly, the manufacturer states that RockinBeauty 3D Lips Hydra Gloss will not cause any stinging or tingling sensations (a common side-effect of some lip plumpers that promise instant plumping effects), which leads us to wonder whether (or how long it would take before) lips actually become fuller.
The manufacturer also states that its 3D Lips Hydra Gloss is does not contain Parabens (chemical preservatives), fragrances or harsh chemicals; and is hypo-allergenic and non-comedogenic (will not block pores)
Instructions
No application instructions are provided. This appears to indicate that you can apply 3D Lips Hydra Gloss as often as you like, using the provided applicator wand. The in-built mirror and light could prove useful if applying the gloss in a low light environment.
The Cost
A single tube of 3D Lips Hydra Gloss, in its innovative packaging that comes complete with a built-in light and mirror in the cap will cost you $24 when purchased directly from RockinBeauty. You will have to sign up for the RockinBeauty monthly newsletter if you want to qualify for any special deals and offers on any of RockinBeauty's products.
Guarantee
RockinBeauty offers a full refund to the same method of payment used to purchase the product. Claims for refunds must be made within 30 days from the date of purchase. We were unable to find any further instructions about how to go about claiming a refund; whether used/opened products can be returned; or what documentation has to accompany any returns.
Our Review Summary Of RockinBeauty 3D Lips Hydra Gloss
For anyone wanting a high-shine lip gloss in an interesting fashion shade, RockinBeauty 3D Lips Hydra Gloss could be just the ticket. The fact that it also comes with an inbuilt light and mirror to make it easy to apply in any environment, including low-light clubs for example, is an interesting bonus.
However, we are less convinced about its effectiveness as a lip plumper, because the manufacturer provides virtually no information about its ingredients, apart from the fact that it contains collagen peptides. What these are, and how much is actually in the product is not explained. The claim that it is "loaded with" these peptides is not supported by any verifiable facts. Because we do not know exactly what is in this product, we recommend that it is used with caution by vegans and vegetarians.
Well researched reviews, from the experts at Research & You.