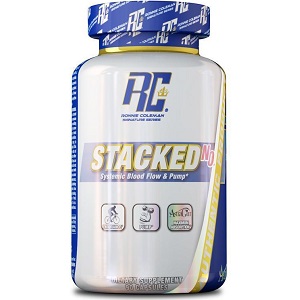 Ronnie Coleman Stacked NO - Does It Work?-Review
What is Ronnie Coleman Stacked NO?
The following is a review for Stacked NO, a nitric oxide product manufactured by Ronnie Coleman. Claiming that it can provide the user with increased levels of energy, by promoting blood flow and increasing vascularity. This stimulant is often paired with a pre-workout to enhance its effect for the purpose of weight loss and building muscle. Containing nitric oxide, which is a signaling molecule that naturally occurs in the body, this product promises to boost blood flow, thereby increasing the body's ability to absorb nutrients.
Ingredients & How It Works
Niacin (as Niacinamide)
Vitamin B12 (as Cyanocobalamin)
L-Citrulline
Agmatine Sulfate
L-Ornithine
HICA (Alpha-Hydroxy-Leucine Calcium Salt)
AstraGin (Astragalus membranaceous root )
Microcrystalline Cellulose
Magnesium Stearate
FD&C Blue No. 1
Titanium Dioxide
Containing l-Citrulline and agmatine, which causes a rapid spike in NO levels, this product combines a host of active and inactive ingredients that promises to result in a healthy nitrogen balance. This product also incorporates AstraGin, which is used to support the body's absorption of amino acids and minerals. Concerningly, Stacked NO does contain some potentially detrimental ingredients. L-Citrulline and L-Ornithine have been found to increase blood pressure and risk of heart disease. Agmatine Sulfate may reduce dopamine levels. Microcrystalline Cellulose is an insoluble fiber made from refined wood pulp used as an anti-caking agent. While FD&C Blue No. 1, is a colorant that has been linked to various health conditions such as asthma, ADHD, allergies, and hypertension.
Daily Serving
Although we could not deduct any information on the use of this product from the manufacturer's website, many other sources suggested the advised daily dosage for this product is dependent on body mass and exercise regime. The lack of information surrounding the use of this product is highly concerning as it contained some potentially harmful ingredients.
This workout supplement should not be used without consulting your healthcare professional, as it may cause undesired side effects if you suffer from certain existing conditions. Not for use or sale for individuals under the age of 18. Not suitable for use during breastfeeding or pregnancy. Stacked NO should not be used for more than 12 weeks.
The Cost
The cost to purchase this product from the manufacturer is generally $49.99, although a limited time discount price of $29.99 is currently offered. A 22% discount is offered on your first two orders, after which an 18% discount applies -  providing that you subscribe to the manufacturer's website. Despite these discounts, this product is still a costly option when compared to other similar supplements.
Guarantee
The manufacturer does offer a 30-day return policy, however, this only applies to resellable, unopened products. If you are unsatisfied with the product, after use, you can return for store credit - providing that it falls within the specified time frame. However, you are liable for all return shipping costs and handling fees, potentially adding an additional cost to this already pricey product.
Our Review Summary Of Stacked NO
This product does seem to include ingredients that support the desired effect of increasing energy levels and blood flow. We also liked that the manufacturer included some type of return policy. However, after reviewing Stacked NO we did come across some concerns. There is an alarming amount of potentially detrimental substances included in this weight loss and fitness supplement, as well as very little information on its proper usage. This raises questions surrounding the safety of this product as there is a substantial warning and age limited connected to it. We have thus concluded that there may be better alternative nitric oxide supplements available to users.
Well researched reviews, from the experts at Research & You.