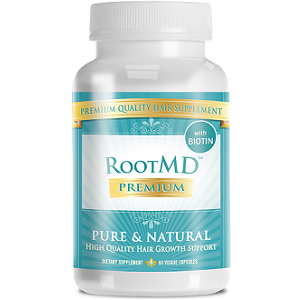 RootMD Premium - Does It Work?-Review
What is RootMD Premium?
When you need a natural supplement to help boost your hair growth you might be considering RootMD Premium. RootMD Premium contains natural ingredients that nourish the hair cells and improve hair growth in terms of length and quality. These ingredients are backed up by science and the supplement is tested by a third party to ensure that it is pure and of the correct quality.
Ingredients & How It Works
Saw Palmetto
Folic Acid
Pantothenic Acid
Ginkgo Biloba
Fo Ti
Tocopheryl Acetate
Borage Oil
Silica
Methylsulfonylmethane
L-Cysteine
L-Methionine
Biotin
Zinc
Selenium
B Vitamins (B2, B5, B6, B9, B12)
Vitamin A
Iron
Iodine
Copper
Because hair loss can be caused by any number of contributing factors, the ingredients in this product aim to target several components that contribute to hair growth. The first line agent is the vitamins and minerals because a deficiency in them, especially zinc or copper, has been associated with hair loss. The vitamins help to contribute to the structure of the hair and the health of the skin cells on the scalp. Ginkgo biloba improves circulation to the scalp to bring more nutrients to it.
Another avenue is using saw palmetto to block one of the hormones, called dihydrotestosterone, from reaching the scalp because this causes hair loss.
The final action is the use of antioxidants like tocopheryl acetate to reduce inflammation, which could also be the cause of hair loss.
Daily Serving
This dietary supplement can be used by taking one tablet in the morning and one tablet in the afternoon. The levels of vitamins and minerals are between 50 and 600% of the daily value recommended for adult consumption, meaning that this supplement delivers sufficient vitamins and minerals for hair growth.
The Cost
There are various pricing options for purchasing the supplement based on how many supplies you would like to buy. A single supply of 60 capsules costs $48, but buying three, four or six supplies works out much cheaper. Three supplies can be purchased for a total of $91, which is $30.33 per bottle. Four supplies are $112 together which is $28 per bottle. Six supplies is $138 in total which is $23 per bottle.
Guarantee
The guarantee that comes with this product is valid for 90 days. The guarantee allows customers to return the product if they become unsatisfied for any reason. The product may be returned opened and used if necessary. When we analyzed the customer reviews, we found that the majority of customers were satisfied with this product though.
Our Review Summary Of RootMD Premium
Before even examining the quality of this product, we were pleasantly surprised to see how this manufacturer makes it easy for their customers to buy and use this product. This is because they have a great set of price ranges and they offer a good guarantee which puts the customer at no risk. After that, we also examined the supplement and realized that it is of good quality too, because it is proven by science. There are some other products produced by this manufacturer which can be read about on their website. 
Well researched reviews, from the experts at Research & You.