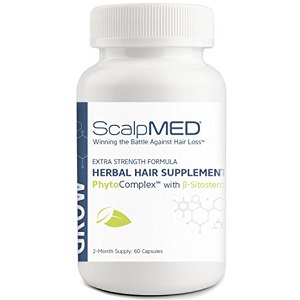 ScalpMed Herbal Hair Supplement - Does It Work?-Review
What is ScalpMed Herbal Hair Supplement?
In this review, we take a proper look at ScalpMed Herbal Hair Supplement. Can this supplement help treat hair loss problems? This hair loss supplement incorporates the use of a special proprietary blend of all natural ingredients. Each ingredient was chosen carefully by researchers for their individual benefits to the scalp and hair.
The ingredients used in this supplement are all known for their hair strengthening, hair growing and scalp health improving qualities. Is ScalpMed Herbal Hair Supplement a viable solution to hair loss? Let's find out.
Ingredients & How It Works
Riboflavin - 5.1 mg
Niacin - 5 mg
Biotin - 900 mcg
Zinc - 15 mg
Selenium - 50 mcg
PhytoComplex Blend - 435 mg
This proprietary blend contains the following ingredients:
Beta-Sitosterol
Campesterol
Stigmasterol
Saw Palmetto Extract
Horestail Extract
Green Tea Extract
Linolenic Acid
Turmeric Extract
Bamboo Extract
Pygeum Africanum Extract
The all-natural ingredients contained in each capsule helps reduce the risk of side effects. The formula also complements each extract's benefits. Rather than blocking or stifling each specific ingredient's strengths, this formula helps elevate the quality and effectiveness of each ingredient. In theory, this should also speed up the effects of this supplement with results being visible sooner.
Daily Serving
The recommended dosage for ScalpMed Herbal Hair Supplement is one capsule per day. You should take the capsule in the morning before breakfast. Always follow the instructions as stated on the label or as directed by a health professional.
The Cost
At the time of this writing, ScalpMed Herbal Hair Supplement could be purchased for $39.99 online directly through the manufacturer. This will net you one 60-capsule bottle, which is a 2-month supply. The manufacturer has some specials mentioned on their website, such as auto-shipping and a six-month supply for a total cost of $279.95. But it is not clear how to purchase these options.
Guarantee
The product comes with a 30-day money back guarantee. This may not be enough time to actually feel the effects of the product. Before sending the product back, first call customer service to get a Return Authorization Number. You need to empty all the bottles before sending them back.
Based on the reviews we found online, ScalpMed Herbal Hair Supplement appears to have a pretty average standing in the online community. About 60% reported that they were satisfied with the product while the remaining 40% states that no effects were seen even after a couple months of use.
Our Review Summary of ScalpMed Herbal Hair Supplement
All in all, ScalpMed Herbal Hair Supplement appears to be a viable option for those experiencing hair loss. The all-natural ingredients help keep our minds at ease when it comes to side effects. No complaints regarding side effects can be found with customer reviews as well. It is also quite affordable compared to other hair loss treatment products.
That being said, we do feel that the 30-day money back guarantee is far too short. New customers will likely find this period insufficient to determine the product's effectiveness. We also feel that there are better options in the market that have better customer reviews as well as better customer guarantees.
Well researched reviews, from the experts at Research & You.