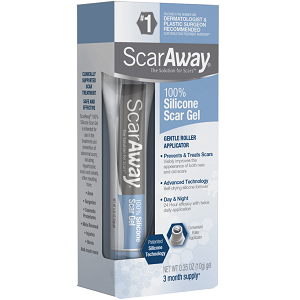 ScarAway Scar Diminishing Gel - Does It Work?-Review
What is ScarAway Scar Diminishing Gel?
Read our review about ScarAway Scar Diminishing Gel. ScarAway Scar Diminishing Gel is a pure silicone scar gel designed to work on new and old scars that formed as a result of surgery, trauma, hypertrophic, keloid scars, burns, injuries and wounds. Its powerful ingredients make even old scars to appear smoother, less visible and closer to the natural color and texture of your skin. This gel is safe for use by people of all ages including children. You should expect to see results in as little as four to eight weeks.
Ingredients & How It Works
The ScarAway Scar Diminishing Gel only has two ingredients, which are Silicon Dioxide and Polysiloxanes. This is not usual for scar gels as they normally contain a long list of ingredients. Nevertheless, these ingredients work well together in flattening and softening scars. Both Silicon Dioxide and Polysiloxanes play an important role in inhibiting the skin from sagging, and they help in restoring its natural glow. However, adding natural oils such as Olive Oil and Tea Tree Oil could make the product more effective, as natural ingredients have soothing properties.
Daily Serving
The manufacturer advises that you ensure that the affected area on which you will apply the gel is cleaned and dried properly before application. Apply a very thin layer of ScarAway Gel two times a day and allow it to dry, then you can put your cosmetics or sunscreen once it is dry.
You should not use this product for more than 90 days. This product is suitable for use by people of all ages including children and people with sensitive skin. You should not apply this gel on open wounds or a skin with sutures. Stop using the product immediately it you experience irritation on your skin.
The Cost
This product can be purchased online through third-party retailers. The price varies between $22.99 and $49.99. You would need to shop around to find the cheapest deal, as there is such a huge difference on the prices. Discounts are available when buying more than one packet, from some of the retailers. The manufacturer offers a $3.00 coupon that you can redeem at your local retailer.
Guarantee
We searched through the manufacturer's website and on various retailers' websites to find a guarantee for this product, but unfortunately we could not find it. It seems like they do not have any.
Our Review Summary Of ScarAway Scar Diminishing Gel
ScarAway Scar Diminishing Gel contains ingredients that have effective properties on the skin. It has worked for some customers that have used it. However, some customers were not happy with the way that the product works and with the results. They indicated that the gel is sticky and  takes a long time to dry. This suggests that it will not work for people who wear makeup. It is also not ideal for people who are always on the run as they will not have time to wait for the product to dry.
The price is very high for a product that you need to use everyday, twice a day, especially if your scar is big.
There is also no money-back guarantee. Therefore, the customer is running a risk of losing a lot of money and possibly compromise their health for this product. It is better to look for a product that is more affordable and one that is supported by the manufacturer's guarantee.
Well researched reviews, from the experts at Research & You.