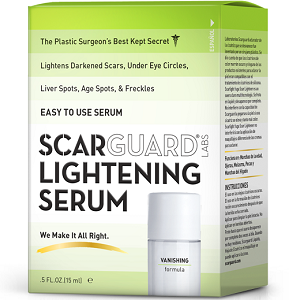 Scarguard Lightening Serum - Does It Work?-Review
What is Scarguard Lightening Serum?
Scars are defined as an area of fibrous tissue that manifests as a result of injury or damage to the skin's tissue. While scarring is a natural part of the body's healing process, the severity and position of these marks may be a cause of embarrassment. This is a review for Scarguard Lightening Serum, a scar lightening product that claims to help reduce the appearance of dark scars and discoloration on the skin (like liver and age spots). This serum also claims to include a mix of dermatological and homeopathic compounds that act as lightening agents.
Ingredients & How It Works
This product only contains one active ingredient namely hydroquinone, which is a skin bleach.  Working to diminish the appearance of dark marks and scarring, by blocking the skin's natural process of creating discoloration - this chemical compound has been linked to some burning and stinging.
Other inactive ingredients include: Retinoic Acid, Melatonin, MSM, BHT, NA Metabisulfite, Arbutin, Cystamine Licorice Root, Dandelion (Taraxacum Offiinate) Root, Hydroxyanisole, Ascorbic Acid (Vitamin C), Hydroxypropyl Cellulose, Kojic Acid, Azelaic Acid, Acetone, Propylene Glycol, Ethyl Alcohol (SDA), Distilled Water.
It is uncertain as to the exact amounts of all the ingredients found in this product.
Daily Serving
It is suggested that this serum should be used twice daily for the best effect. Rub a small amount of the product on the affected area. It is important to remember not to expose the areas you have used the serum on to direct sunlight. Avoid contact with eyes. Also stop use immediately if irritation occurs and seek medical attention.
The Cost
Currently, this scar serum is listed at $34.99 for 5 fl.oz on the manufacturer's website. However, at the time of this review, this product was out of stock and no special offers or rates could be found.
Guarantee
After much extensive research, we were unable to uncover any mention of a satisfaction guarantee or any returns policy. This is quite concerning if you consider that this product is one, somewhat pricey and two, has been found to cause some form of discomfort for some users. The lack of guarantee also reflects on the level of confidence the manufacturer has in their serum.
Our Review Summary Of Scarguard Lightening Serum
To conclude our review for Scarguard Lightening Serum, we thought that this scar lightening product did contain a well-known skin lightening bleach (hydroquinone) which has been shown to whiten/lighten areas on the skin affected by marks or discoloration. We also appreciated that this product seemed to have sufficient information on how best to use it. However, considering that the active ingredient has also shown to have some negative effects was of concern to us. In addition, the fact that this product was unavailable and that no satisfaction guarantee has been put in place makes us wonder if this product would be the best choice. 
Well researched reviews, from the experts at Research & You.