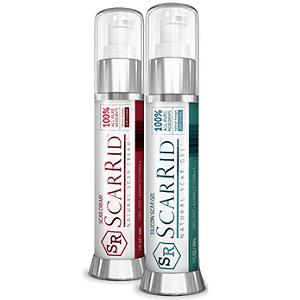 Scarrid Natural Scar Formula - Does It Work?-Review
What is Scarrid Natural Scar Formula?
This is a review for Scarrid Natural Scar Formula looks at the key product attributes of this scar removal product to help you make an informed purchasing decision. Aimed to heal and eventually fade the appearance of scars, the manufacturer says that its formula is based on over 20 years of combined research into the components in its formula which have been selected to help regenerate the tissue, nourish the skin and speed up the healing process. If scars are a problem you'd like to resolve, read our full review below with all the details on this product.
Ingredients & How It Works
Scarrid is available in both a cream and a gel format. The cream can be purchased on its own or in combination with the gel, for a dual-action approach.
Scarrid Gel
Dimethicone - Eases the inflammation
Cyclomethicone & Dimethiconol - Creates a barrier that will increase the healing process
Cyclopenstasiloxane & Dimethicone/vinyl - Seals in moisture and repairs the skin
Scarrid Cream
Aloe Barbadensis - Antioxidant healing properties
Safflower - Includes linoleic acid that heals wounds
Sunflower Seed oil - Rich in vitamins and antioxidants
Onion Bulb Extract - To heal scars
Tocopheryl Acetate - Collagen production booster
Jojoba Oil - Soothes and moisturizes
Emu Oil - Relieves and moisturizes
Allantoin - Promotes cell replication
Vitamin C - Numerous benefits, regulates collagen formation
Palmarosa Oil - Stimulates cell regeneration
Immortelle - Contains helichrysum oil that fades scars
All these ingredients, according to research, have been clinically proven to fade scar marks, speed up healing and seal in moisture. The manufacturer outlines four key steps that these ingredients are involved in to protect the skin from further contaminants, heal it internally, nourish the skin to help with tissue regeneration and fade the appearance of scars.
Daily Serving
For best results, both the cream and gel should be applied to the affected area three or more times a day.
The Cost
Scarrid has a couple of packages available. If you purchase a starter package (1 tube), the cost is $49.95. However if you purchase a two-bottle supply of 1 Scarrid Gel and 1 Scarrid Cream, the cost is $36.00 each. The cost of the tubes decreases the more that you buy so that if you purchase the 6-tube package the cost is $24.00 per unit, a savings of over $155.00 compared to the single tube cost. Overall, the price of Scarrid Natural Scar Formula is competitive in its product category.
Guarantee
Scarrid has a refund policy of 60 days or your money back. Based on reviews of this product, many saw positive results soon after usage, indicating that this return policy -- which allows the return of open product, even if used, for a refund -- gives the customer plenty of time to try this product out and see whether it works for them.
Our Review Summary of Scarrid Natural Scar Formula
Scarrid Natural Scar Formula looks like a worthy product in the scar removal category. After reviewing the clinical research done, we've found that not only are users satisfied with the product, but it actually works. The product website is clear and explains the step-by-step process for rejuvenating the cells, nourishing the skin to eventually fade away scars. Overall, it's competitive in its category not only in terms of its price but by providing a customer-friendly money-back guarantee which allows new users to test its effectiveness virtually risk-free. Having a cream and gel formula is a winning two-step process to repair and revitalize.
Well researched reviews, from the experts at Research & You.