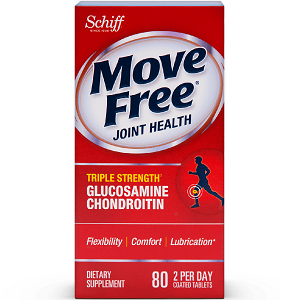 Schiff Move Free Triple Strength - Does It Work?-Review
What is Schiff Move Free Triple Strength?
Schiff Move Free Triple Strength is a supplement created to cure joint problems and help in regaining joint health. According to Schiff, this supplement assists in maintaining five signs of joint health, which includes strength, mobility, flexibility, comfort, and lubrication. It also helps in increasing the range of motion by providing cushioning for the joints and supporting the cartilage.
In this Move Free Triple Strength review, we will discover the facts about curing joint problems and take a closer look at the ingredients, dosage, cost, and the guarantee provided by Schiff.
Ingredients & How It Works
Glucosamine is a substance which is naturally found in bones, bone marrow, fungus, and shellfish. It is a sugar protein which significantly helps our body in building cartilage. Using Glucosamine helps in strengthening the weaker joints, and it also assists in rebuilding the damaged joints.
Chondroitin is a natural substance made of sugar chains. Chondroitin is the main substance required to build the cartilage and helps in maintaining the flexibility of the joints by attracting fluids in our body which are responsible for the lubrication of joints.
Hyaluronic acid is naturally present in healthy joint fluids. It helps in lubricating the joints and consequently allows the smoother movement of the joints. The amount of Hyaluronic acid decreases as we get older.
Uniflex is a naturally occurring mineral complex which promotes the cushioning of joints which in result provides joint comfort.
Daily Serving
Adults are recommended to take 2 tablets with a meal. Tablets can be taken together at once each day or they can also be taken separately at different times. Chondroitin, Glucosamine and the other two ingredients are safe when they are taken according to the prescribed dosage. Taking more than the required doses can produce side effects such as rapid heartbeat, gastric disturbance, headaches, nausea, diarrhea, constipation, and hair loss. If consumers experience any side effects mentioned above, they should stop taking these tablets and consult their doctor as quickly as possible.
The Cost
This product can be purchased from several online stores like Amazon, Walmart, and Walgreens.
One bottle of 80 tablets costs $26.99 but you can avail a discount price of $17.97 on Amazon and Walmart.
Guarantee
This is the major downside of this product as there is no guarantee provided about its effectiveness on its official website. There is also no satisfaction guarantee provided.
Our Review Summary Of Move Free Triple Strength
Every person is different from one another, so there are people who suffer from severe joint pain and there are people who only suffer mild joint pain. After completing this review of Schiff Move Free Triple Strength, we have concluded that people having mild joint pain can find this supplement helpful for their needs. However, people who are experiencing immense joint pain will require a supplement which is stronger than the few ingredients present in Schiff Move Free Triple Strength.
Although the official site has only 27 customer reviews regarding this supplement, there are more than 600 positive customer testimonials on Amazon. Several people recommend this supplement for the treatment of minor to moderate joint pain.
Pregnant or breastfeeding women are required to consult their medical specialist before taking this supplement. Glucosamine present in this supplement is extracted from shellfish, so people who are allergic should not take this supplement. We did find some negative customer reviews on the internet which state that this supplement does not help in treating joint pain at all, So, buyer be ware.
Well researched reviews, from the experts at Research & You.