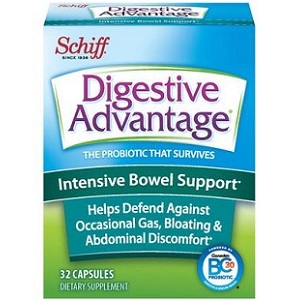 Schiff Vitamins Digestive Advantage - Does It Work?-Review
What is Schiff Digestive Advantage?
This product is a daily supplement which is said to provide digestive support to those who suffer from disorders such as IBS. the manufacturer claims that long-term use of the product helps the digestive system by ensuring that the capsule's shell survives in harsh conditions of the stomach and only dissolves in the intestines where it is needed most. It is also said to provide you with relief from symptoms such as pain, gas, bloating, and abdominal discomfort.
In this review of Schiff Digestive Advantage, we analyze the facts to see if this product will live up to the claims.
Ingredients & How It Works
Bacillus Coagulans
Protease
Amylase
Lipase
Other Ingredients
Maltodextrin
Hypromellose
Microcrystalline cellulose
Stearic acid
Water
Dextrin
Titanium dioxide
Silicon dioxide
Magnesium stearate
Caramel color
Contains wheat and soy
Bacillus Coagulans is a beneficial type of bacteria that aids in digestion, promotes a healthy immune system and helps to prevent diarrhea. Protease Amylase and Lipase are enzymes which help to break down and digest foods as well as cell walls of harmful organisms in the body. While the live probiotics may be beneficial we cannot confirm that they are not affected by the various fillers and binders included in this formula such as magnesium stearate and stearic acid. Some studies suggest that magnesium stearate actually promotes the growth of gastrointestinal bacteria. We are also disappointed to find that this product does not contain any supporting ingredients such as ginger or peppermint which help to reduce pain as the product claims to do.
Daily Serving
Digestive Advantage should be taken once a day with the biggest meal. Only one capsule is recommended daily however, the manufacturer has stated that adults may benefit from taking it with two meals a day instead of 1. Based on the fact that this product has a various amount of fillers and binders which may affect the effectiveness of the main active ingredients, the dosage may not be potent enough to deliver measurable results.
The Cost
Each bottle of Digestive Advantage contains 96 capsules which retail for $16.00 to $27.00 depending on which online retail store your purchase the product from. The manufacturer sells this product for $19.00 and seems to not offer any discounts or bulk purchase options.
Guarantee
Schiff Vitamins has a weaker guarantee policy when compared to other leading brands. Their policy will only cover you for returns within 30-days provided that the product has not been opened and that it is still in its original condition. Refunds will not be given once a bottle has been opened.
Our Review Summary Of Schiff Vitamins Digestive Advantage
After analyzing the product we found a few positive points to note. We like the fact that it contains ingredients which could potentially benefit those with a digestive disorder, we also like that the price is fairly affordable. With that being said, we also have a few concerns about the product as well. It is disappointing to see how many fillers and binders are contained within each capsule and since there are no supporting ingredients to soothe the stomach we feel that this product will not be effective in reducing pain, discomfort or nausea. We also noticed that there were many mixed reviews some of which had mentioned that the product worsened their condition or that it was completely ineffective. The guarantee policy is also another downside and has not provided us with much confidence in the formula. We believe that a strong satisfaction guarantee affirms the effectiveness of the formula which is not the case with  Digestive Advantage.
Well researched reviews, from the experts at Research & You.