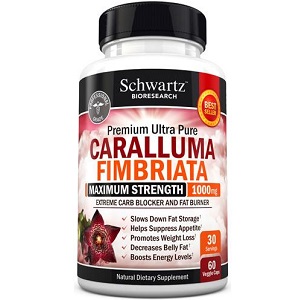 Schwartz Bioresearch Caralluma Fimbriata - Does It Work?-Review
What is Schwartz Bioresearch Caralluma Fimbriata?
This is a review of Schwartz Bioresearch Caralluma Fimbriata, an all natural supplement which directly affects the hypothalamus which is the brain's appetite control center. Designed to help individuals meet their weight loss goals via an appetite suppressant, the primary ingredient in this supplement is commonly used to this end.
Ingredients & How It Works
Primary Ingredient
Caralluma Fimbriata - 1000 mg
Secondary Ingredient
Vegetable Cellulose (Veggie Cap)
The manufacturer sells bottles stating that they are Maximum Strength Caralluma Fimbriata Fast Acting Formula with 1000 mg with different product labels - so consumers will need to carefully read the label before making a purchase.  In one of the bottles with this label, we saw that the source of the Caralluma Fimbriata was not listed as coming straight from the cactus, and therefore was likely manufactured in a laboratory. The same label produced by Schwartz Bioresearch lists 1000 mg of Caralluma Extract 10:1 from a whole cactus plant.  So this is rather confusing and misleading to buyers as to what they are purchasing, and which reviews will correspond to which products.  This is significant because purchasing a supplement that comes from the whole cactus plant is known to be way more effective in weight loss efforts.
Both labels, however, list that the supplement is free of soy, caffeine, gluten, milk, egg, wheat GMOs, peanuts, sweeteners, shellfish, and sugar.  There are no artificial ingredients, fillers, chemicals, color additives, binders or preservatives.
Daily Serving
The product labels instruct adults to take two capsules once a day, with best results to take the supplement 30-40 minutes before a meal with 8 ounces of water, or as directed by your healthcare professional. The recommended dosage should not be exceeded.
Pregnant or nursing mothers, children under 18 and individuals with a known medical condition should consult their physician before using this product.  

The Cost
The manufacturer's website sells one 60 capsule bottle for $16.95; a third party website sells one bottle for $15.35.  This price is noticeably higher than competing companies which sell similar products with 120 capsules in each bottle. And costs do not include shipping. International shipping is not available at the current time.
Guarantee
The manufacturer offers a money back guarantee but does not specify any of the circumstances around it.  Moreover, this guarantee is not highlighted on the manufacturer's website.  Rather, it is listed as an FAQ with a question whether the money back guarantee really exists, and they answer that it does.  But no more additional information is offered or highlighted by the manufacturer which surprised us.
Our Review Summary Of Schwartz Bioresearch Caralluma Fimbriata
Manufactured in the USA and with GMP certification, on the surface this appears to be a solid product especially the Caralluma Fimbriata extract that comes from the whole cactus plant. Unfortunately, the labels are so misleading with the manufacturer not acknowledging on their own website that they were, in fact, selling two different products.  And with only 1000 milligrams daily, there are leading companies which manufacture two tablets with 1600 mg/daily which is recommended for optimal weight loss results.
Finally, the reviews are truly a mixed bag.  Most say that the supplement did nothing for them at all.  There were many reviewers who admitted that they had been offered a free bottle in exchange for writing a positive review.  We suggest buyers look to the products that use 100% pure Caralluma Fimbriata from the cactus plant with higher numbers of milligrams and positive reviews at a better price point, and where the manufacturer proudly advertises a 100% satisfaction guarantee.
Well researched reviews, from the experts at Research & You.