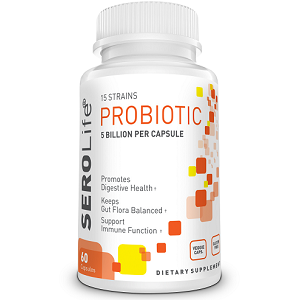 SeroVera SeroLife Probiotic - Does It Work?-Review
What is SeroVera SeroLife Probiotic?
About one-fifth of Americans suffer from IBS, although recent research puts the number of people suffering from IBS-like symptoms, if not the full disease, higher - at but one quarter. The causes are down to several factors, all of which can be combined differently in any given sufferer along with sub-factors, meaning that there is no cure for IBS, only management solutions.
The best route for soothing symptoms appears to be by using digestive aids such as enzymes and probiotics, eliminating trigger foods such as gluten or whatever the trigger may be in each sufferer's case, and also eliminating trigger beverages.
SeroVera is the manufacturer of SeroLife Probiotic. As is evident, therefore, SeroVera has gone the probiotic route in treating this disease. We now proceed to review how this supplement can possibly help ease your symptoms. The supplement contains 5 billion live bacteria in every capsule along with 15 probiotic strains. It aims to boost the population of good bacteria in your gut so it works optimally, breaking down food easily and eliminating waste without causing pain, bloating or abdominal aggravation.
Ingredients & How It Works
Lactobacillus acidophilus
Bifidobacterium longum
Bifidobacterium bifidum
Lactobacillus casei
Lactobacillus helveticus
Lactobacillus acidophilus
Lactobacillus reuteri
Lactobacillus fermentum
Lactobacillus gasseri
Lactobacillus plantarum
Lactobacillus longum (B. longum)
Lactobacillus rhamnosus (L. rhamnosus)
Lactobacillus salivarius
Bifidobacterium lactis
Bifidobacteria infantis
Bifidobacterium longum
Bifidobacterium bifidum
Bifidobacterium breve (B. breve)
Streptococcus Thermophilus
As the manufacturer has promised, there are at least 15 strains of good bacteria in this formula which is to be lauded, as there are many supplements on the market only containing Lactobacillus acidophilus and very little else. Why are more strains to be preferred? Firstly, it is very difficult to ascertain precisely which ones you are lacking. Secondly, some strains cannot survive acidic or alkaline conditions so this way, you can be assured of a greater chance of survival no matter the conditions in your gut. These strains are needed to build up resilience to the bad bacteria which inhibits proper digestive tract working. They are also required if the enzymes that break down carbs, proteins and dairy are to work optimally.
Leading medical experts though have consistently said what is backed up by research: that the best way to manage IBS symptoms is through increasing your intake of enzymes. These must be the key enzymes responsible for breaking down the various food groups and they must be 100% pure. This makes sense as inadequate digestion is at the heart of IBS and probiotics play a distant secondary role in digestion, compared to enzymes. This formula also does nothing to address the pain associated with IBS. Recent scientific publications have placed emphasis on using Peppermint, Aloe Vera, Ginger, Turmeric, BioPerine, Long Pepper, Cumin and Vitamin D in combination to ease the digestive pain. BioPerine is the bioavailability compound of choice in scientific circles for increasing absorption of nutrients so you feel the effects much quicker.
Daily Serving
Take 2 capsules daily before you've eaten any food. There should be no side effects. If you experience loose stool or any other abnormal activity that does not get better after three days, we suggest lowering your dosage until your body adapts.
Also, remember that even at 2 servings you are still not getting your recommended dose of probiotics. You need between 50 and 100 billion live organisms per day.
The Cost
On the SeroLife website, a bottle of 30 capsules retails for $31.96. This is therefore what you'll pay for a two-week supply. At the time of researching this review, the capsules were on sale, down from $39.95. You can save more by buying 2, 3 and 6 bottles. These packages will cost  $28.58, $25.60 and $22.66 respectively.
Guarantee
If the seal's in place, you can return new and unopened bottles within 90 days of purchase for a full refund, less shipping costs. This only applies if you buy your products directly from SeroLife. You may not trial the product and return it should you find that it's not working for you as no partially used bottles are accepted for returns.
Our Review Summary Of SeroVera SeroLife Probiotic
Barring the odd complaint of constipation, SeroVera garners good reviews. The range of probiotic strains included is more comprehensive than most which means you'll derive far more probiotic bolstering and digestive support than if the formula came down to one or even five strains, as many formulae do. Your bowel movements should become easier as well as more regular.
As far as the actual amount of live bacteria you need per day though, and taking nothing away from the 5 billion count in this formula, you actually need between 50 and 100 billion probiotics. Bearing in mind what we said right upfront about IBS being manageable but not curable, and how treatment remedies will differ for each person, when it comes to IBS more than anything else, the right supplement for you will come down to trial and error. You won't be able to do that here as you can't return partially opened bottles. And, as far as the formula goes, you won't experience significant pain relief because the soothing agents required are missing. So too are the actual natural enzymes your gut needs to improve ailing digestion. In severe cases, you may also need amino acids as well as enzymes. This supplement may turn out to be a good probiotic aid, but an aid nonetheless.
Well researched reviews, from the experts at Research & You.