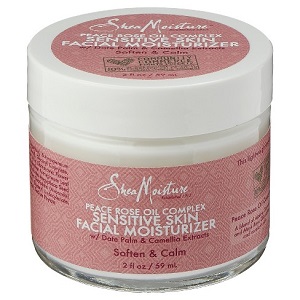 SheaMoisture Peace Rose-oil Complex Sensitive Skin Facial Moisturizer - Does It Work?-Review
What is SheaMoisture Peace Rose-oil Complex Sensitive Skin Facial Moisturizer?
We've reviewed SheaMoisture Peace Rose-oil Complex Sensitive Skin Facial Moisturizer based on various properties of this product which include its ingredients, its price and whether or not the manufacturer offers a guarantee. These are the features we look at in a product to determine its quality. This product is designed to moisturize the skin and enrich it with nutrients so that it has a soft and smooth texture.
Ingredients & How It Works
Camellia Leaf Extract
Date Palm Extract
Peace Rose Oil Complex
Aloe Barbadensis Leaf Juice
Coconut Oil
Shea Butter
The purpose of the numerous plant extracts in this product is to provide hydration but also vital nutrients for the skin cells. Unhealthy skin cells cannot absorb as much water and therefore would not benefit as much from increased hydration. Healthy and nourished skin cells are also better able to produce their own source of water. Coconut oil and shea butter are hydrophobic ingredients that trap water underneath them so that it does not escape because of evaporation. This helps the moisture to stay in for longer.
The plant extracts are also rich in antioxidants which prevent environmental chemicals from damaging and dehydrating the skin.
Instructions
This product must be applied in the morning and in the evening to the whole face and neck, making sure that it is fully absorbed. The manufacturer doesn't mention it, but we recommend cleansing the face and using a toner along with this product to receive more benefits.
The Cost
2 fl oz of this product is available for purchase online at the price of $12.99. This price is quite low for a skincare product. This lower price also explains why there are no discounts for this product (although there appear to be some promotions when signing up with the manufacturer's loyalty program) . There is also no subscription service which can make the consistent purchasing of this product tedious or inconvenient. The price does not include shipping or taxes.
Guarantee
It doesn't particularly surprise us that there is no guarantee for this product given its low price. Some manufacturers choose to use a lower price and not guarantee their product while some other manufacturer's products are slightly more expensive but come with a guarantee. It is really up to the customer if they would like to take a gamble on the usefulness of this product, and potentially lose the money for a product that does not work, or if they would like to spend more money but be completely certain that the product works and, in the case that it doesn't, they will receive their money back.
Our Review Summary Of SheaMoisture Peace Rose-oil Complex Sensitive Skin Facial Moisturizer
This product contains a good combination of ingredients and is offered at a very fair price. The manufacturer is a little bit vague about their instructions for the use of this product, so individual results may vary quite substantially. Most significantly this product is not satisfaction guaranteed like many of the leading manufacturers which does cast doubt into its effectiveness and the willingness of the manufacturer to provide customer satisfaction. 
Well researched reviews, from the experts at Research & You.